Translate this page into:

doi:
10.4103/1742-6413.111080
Abdominopelvic washings: A comprehensive review
Department of Pathology, University of Pittsburgh Medical Center, Pittsburgh, PA, USA
Received: , Accepted: ,
Copyright: © 2013 Rodriguez EF et al.; licensee Cytopathology Foundation Inc
Licence
This is an open-access article distributed under the terms of the Creative Commons Attribution-Noncommercial-Share Alike 3.0 Unported, which permits unrestricted use, distribution, and reproduction in any medium, provided the original work is properly cited.
Disclaimer:
This article was originally published by Medknow Publications & Media Pvt Ltd and was migrated to Scientific Scholar after the change of Publisher; therefore Scientific Scholar has no control over the quality or content of this article.
Abstract
Intraperitoneal spread may occur with gynecological epithelial neoplasms, as well as with non-gynecological malignancies, which may result in serosal involvement with or without concomitant effusion. Therefore, washings in patients with abdominopelvic tumors represent important specimens for cytologic examination. They are primarily utilized for staging ovarian cancers, although their role has decreased in staging of endometrial and cervical carcinoma. Abdominopelvic washings can be positive in a variety of pathologic conditions, including benign conditions, borderline neoplastic tumors, locally invasive tumors, or distant metastases. In a subset of cases, washings can be diagnostically challenging due to the presence of co-existing benign cells (e.g., mesothelial hyperplasia, endosalpingiosis, or endometriosis), lesions in which there is only minimal atypia (e.g., serous borderline tumors) or scant atypical cells, and the rarity of specific tumor types (e.g., mesothelioma). Ancillary studies including immunocytochemistry and fluorescence in situ hybridization may be required in difficult cases to resolve the diagnosis. This article provides a comprehensive and contemporary review of abdominopelvic washings in the evaluation of gynecologic and non-gynecologic tumors, including primary peritoneal and mesothelial entities.
Keywords
Abdominopelvic washings
effusion cytology
fluid cytology
pelvic washings
INTRODUCTION
Peritoneal washings were initially described in 1956 for the evaluation of gynecologic malignancies.[1] The purpose of this procedure was to diagnose "early" spread of ovarian cancer. In 1971, Creasman and Rutledge reported the correlation between positive peritoneal washings and prognosis in ovarian, endometrial and cervical cancer.[2] Peritoneal washing was subsequently added to the ovarian staging system of the International Federation of Gynecology and Obstetrics (FIGO) in 1975.[3] Although peritoneal washing in ovarian cancer staging systems remain part of the FIGO staging system, the role of washings in staging endometrial carcinoma has been controversial and is no longer part of the current FIGO staging system.[45] Furthermore, peritoneal washings are also not included in the staging system of cervical carcinoma, most likely due to low sensitivity in the detection of advanced cervical disease; nevertheless, when such washings are positive they correlate with a very poor prognosis.[67]
The presence of neoplastic cells in peritoneal washings reflects intraperitoneal spread of the neoplastic process beyond the primary organ site. When this occurs, it often correlates with a poor prognosis in a variety of tumors; one important exception is positive washings in patients with borderline ovarian tumors. The prognostic importance of neoplastic cells in washing fluids of patients with gastric cancer has also been recognized[8] and the Japanese Research Society has included this procedure as part of their staging process since 1988.[8] For gastric cancer, a positive peritoneal washing is considered by the American Joint Committee on Cancer as M1 disease;[6] for this reason peritoneal washings are performed during gastric surgery at some institutions.[9] The same concept applies to other gastrointestinal malignancies such as pancreatic cancer.[610]
Since serosal involvement by malignancy (e.g., carcinomatosis) may occur with or without concomitant effusion (e.g., ascites), pelvic washing is an important diagnostic tool. The collection of abdominopelvic (peritoneal) washings (or lavage) and/or related fluid specimens (e.g., cul-de-sac or gutter aspirates) occurs at the time of abdominal surgery, preceding exploratory laparotomy or removal of the primary tumor. Typically sterile saline is instilled (e.g., 50-200 mL) into the abdomen to wash the pelvic and paracolic gutters, as well as the undersurface of both diaphragms. The saline wash from these different sites is then aspirated, pooled, and often mixed with heparin to avoid clot formation. If there is any pre-existing fluid or ascites, the collection of this fluid for submission to cytology should precede the washing procedure.[11]
Abdominopelvic washings are challenging specimens to interpret, since they may be positive in benign conditions, borderline neoplastic tumors or malignancies from locally invasive tumors or distant metastases [Table 1]. One of the most helpful approaches in the evaluation of these often challenging specimens is to compare the pelvic washings with the patient's available surgical pathology specimens. This practical approach should be attempted whenever possible to avoid diagnostic errors. Nevertheless, the presence of malignant cells in peritoneal washings is associated with a poor prognosis in the majority of cases. Non-neoplastic findings such as endometriosis, endosalpingiosis, and reactive mesothelial proliferations can be misinterpreted as a malignancy. In general, pelvic washings are rarely used for making a primary diagnosis, but can help document a persistent or recurrent gynecological malignancy with a "second-look" procedure. Such "second-look" peritoneal washings obtained after primary cytoreductive surgery may be difficult to obtain due to adhesions. Also, treatment effect from chemotherapy and/or radiation treatment can alter normal mesothelial cells (e.g., enlargement, anisonucleosis, and prominent nucleoli) which may also mimic malignancy.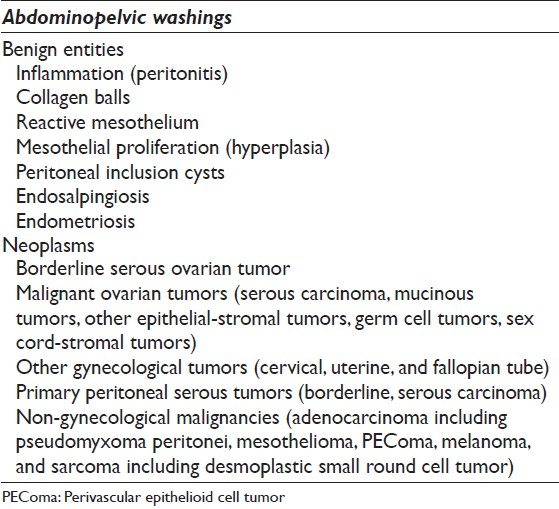 This article provides a comprehensive and contemporary review of abdominopelvic washings in the evaluation of gynecologic and non-gynecologic tumors, including primary peritoneal and mesothelial entities.
CONCLUSIONS
Peritoneal washings in patients with abdominopelvic tumors are frequently submitted for cytologic evaluation. It is important to correlate the cytological findings in these washings with the surgical pathology of the resected tumor in all cases. Immunohistochemistry may be of limited value in pelvic washings because the presence of benign entities (e.g., endosalpingiosis) stain positively for epithelial and Müllerian markers. The utility of performing washings in benign and borderline tumors of the ovary, as well as several other gynecological malignancies, remains unclear. Furthermore, positive pelvic washing cytology is no longer used for staging of endometrial cancer. Peritoneal washings are also not included in staging cervical carcinoma. Peritoneal washing cytology is sometimes also used to document the spread of gastric or pancreatic carcinomas. Therefore, the cytopathologist must be prepared for a wide variety of morphologies in these specimens, recognize the utility and limitations of these specimens, and be aware of the differential diagnoses and possible pitfalls.
COMPETING INTEREST STATEMENT BY ALL AUTHORS
The authors declare that they have no competing interests.
AUTHORSHIP STATEMENT BY ALL AUTHORS
All authors of this article declare that they qualify for authorship as defined by ICMJE. All authors participated in it design and coordination, and worked collaboratively to draft the manuscript. All authors read and approved the final manuscript.
ETHICS STATEMENT BY ALL AUTHORS
This study was conducted with approval from Institutional Review Board (IRB) of all the institutions associated with this study as applicable. Authors take responsibility to maintain relevant documentation in this respect.
EDITORIAL/PEER-REVIEW STATEMENT
To ensure the integrity and highest quality of Cyto Journal publications, the review process of this manuscript was conducted under a double-blind mode (authors are blinded for reviewers and vice versa) through automatic online system
REFERENCES
Experience with radioactive colloidal gold in the treatment of ovarian carcinoma.

Am J Obstet Gynecol. 1956;

71

:

553

-

68

.

The prognostic value of peritoneal cytology in gynecologic malignant disease.

Am J Obstet Gynecol. 1971;

110

:

773

-

81

.

Diagnosis and staging of ovarian carcinoma.

Semin Oncol. 1975;

2

:

217

-

22

.

Carcinoma of the ovary.FIGO 26 th Annual Report on the Results of Treatment in Gynecological Cancer.

Int J Gynaecol Obstet. 2006;

95

:

S161

-

92

.

Comparative performance of the 2009 international Federation of gynecology and obstetrics' staging system for uterine corpus cancer.

Obstet Gynecol. 2010;

116

:

1141

-

9

.

American Joint Committee on Cancer (AJCC) Cancer Staging Manueal.

Chicago:

Springer

;

2010

.

Peritoneal washing cytology in cervical carcinoma. Analysis of 109 patients.

Acta Cytol. 1990;

34

:

645

-

51

.

Japanese Classification of Gastric Carcinoma.

Gastric Cancer. 1998;

1

:

10

-

24

.

Peritoneal wash cytology in gastric carcinoma.Prognostic significance and therapeutic consequences.

Eur J Surg Oncol. 2010;

36

:

982

-

6

.

Positive peritoneal lavage cytology is a predictor of worse survival in locally advanced pancreatic cancer.

Am J Surg. 2010;

199

:

657

-

62

.

Cytopathologic Diagnosis of Serous Fluids.

China:

Saunders Elsevier

;

2007

.

The Art and Science of Cytopathology

Vol

1

.

(

2nd ed

). Chicago:

American Society of Clinical Pathology Press

;

2012

.

Serous Cavity and Cerebrospinal Fluid Cytopathology.

New York:

Springer

;

2012

.

Cytopathology of serous neoplasia of the ovary and the peritoneum: Differential diagnosis from mesothelial proliferations.

Diagn Cytopathol. 1996;

15

:

292

-

5

.

"Collagen balls" in peritoneal washings. Prevalence, morphology, origin and significance.

Acta Cytol. 1992;

36

:

466

-

70

.

Peritoneal washing cytology.

Cytopathology. 2004;

15

:

131

-

41

.

Studies on cytology and cytochemistry of cilioepithelial tumor cells in puncture of serous ovarian cystomas and cystadenocarcinomas.

Z Krebsforsch. 1953;

59

:

581

-

93

.

Serous psammocarcinoma of the ovary and peritoneum.

Int J Gynecol Pathol. 1990;

9

:

110

-

21

.

Cytologic findings of psammocarcinoma in peritoneal washings.

Acta Cytol. 2009;

53

:

263

-

7

.

Cytohistologic correlation of peritoneal washing cytology in gynecologic disease.

Acta Cytol. 1989;

33

:

327

-

36

.

Ciliated adenocarcinoma of the ovary with evidence of serous differentiation: Report of a case.

Int J Gynecol Pathol. 2009;

28

:

447

-

52

.

Ciliated carcinoma – A variant of endometrial adenocarcinoma: A report of 10 cases.

Int J Gynecol Pathol. 1983;

2

:

1

-

12

.

Cytologic features of ciliated adenocarcinoma of the cervix: A case report.

Acta Cytol. 2005;

49

:

187

-

90

.

Endosalpigiosis in peritoneal washings with benign gynecologic conditions: A report of 34 cases confirmed with PAX-8 immunohistochemical staining and correlation with surgical biopsy findings.

J Am Soc Cytopathol. 2012;

1

:

S17

-

8

.

Cytologic findings in peritoneal washings associated with benign gynecologic disease.

Acta Cytol. 1988;

32

:

139

-

47

.

The adjunctive value of CD10 immunostaining on cell block preparations in pelvic endometriosis.

Acta Cytol. 2009;

53

:

625

-

9

.

Eosinophilic metaplastic atypia in exfoliated cells of ovarian endometriosis: A potential cytodiagnostic pitfall in peritoneal fluids.

Diagn Cytopathol. 2004;

31

:

123

-

5

.

Borderline ovarian tumors: Diverse contemporary viewpoints on terminology and diagnostic criteria with illustrative images.

Hum Pathol. 2004;

35

:

918

-

33

.

Borderline ovarian tumours.

Best Pract Res Clin Obstet Gynaecol. 2012;

26

:

325

-

36

.

Peritoneal washing cytologic analysis of ovarian serous tumors of low malignant potential to detect peritoneal implants and predict clinical outcome.

Cancer Cytopathol. 2012;

120

:

238

-

44

.

Peritoneal washing cytology of ovarian tumors of low malignant potential: Correlation with surface ovarian involvement and peritoneal implants.

Acta Cytol. 1998;

42

:

1091

-

4

.

The histologic subtype of ovarian tumors affects the detection rate by pelvic washings.

Cancer. 2004;

102

:

150

-

6

.

Peritoneal washing cytology in gynecologic cancers: Long-term follow-up of 355 patients.

J Natl Cancer Inst. 1996;

88

:

980

-

7

.

Peritoneal washing cytology. Uses and diagnostic criteria in gynecologic neoplasms.

Acta Cytol. 1984;

28

:

105

-

10

.

Cytologic identification of serous neoplasms in peritoneal fluids.

Cancer. 2001;

93

:

309

-

18

.

Pathology of ovarian carcinoma.

Hematol Oncol Clin North Am. 2003;

17

:

909

-

25

.

Subdividing ovarian and peritoneal serous carcinoma into moderately differentiated and poorly differentiated does not have biologic validity based on molecular genetic and in vitro drug resistance data. Am J Surg Pathol. 2008;32:1667-74.

Key features of extrauterine pelvic serous tumours (fallopian tube, ovary, and peritoneum) Histopathology. 2012;61:329-39.

Grading ovarian serous carcinoma using a two-tier system. Am J Surg Pathol. 2004;28:496-504.

Micropapillary serous carcinoma of the ovary: Cytomorphologic characteristics in peritoneal/pelvic washings. Cancer. 2002;96:135-9.

Cytologic findings in peritoneal fluids from patients with ovarian serous adenocarcinoma. Diagn Cytopathol. 1986;2:13-6.

Application of immunohistochemistry to gynecologic pathology. Arch Pathol Lab Med. 2008;132:402-23.

Immunohistochemical analysis of peritoneal mesothelioma and primary and secondary serous carcinoma of the peritoneum: Antibodies to estrogen and progesterone receptors are useful. Am J Clin Pathol. 2006;125:67-76.

h-caldesmon, calretinin, estrogen receptor, and Ber-EP4: A useful combination of immunohistochemical markers for differentiating epithelioid peritoneal mesothelioma from serous papillary carcinoma of the ovary. Am J Surg Pathol. 2007;31:1139-48.

Detection of PAX8 and p53 is beneficial in recognizing metastatic carcinomas in pelvic washings, especially in cases with suspicious cytology. Gynecol Oncol. 2012;127:595-600.

High-grade and low-grade pelvic serous neoplasms demonstrate differential p53 immunoreactivity in peritoneal washings. Acta Cytol. 2011;55:79-84.

Extraovarian peritoneal serous papillary carcinoma: A case-control retrospective comparison to papillary adenocarcinoma of the ovary. Gynecol Oncol. 1993;50:347-51.

Mesothelioma of the pelvic peritoneum resembling papillary cystadenocarcinoma of the ovary: Case report. Am J Obstet Gynecol. 1959;77:197-200.

Intraperitoneal serous adenocarcinoma: A critical appraisal of three hypotheses on its cause. Am J Obstet Gynecol. 2004;191:718-32.

Intraepithelial carcinoma of the fimbria and pelvic serous carcinoma: Evidence for a causal relationship. Am J Surg Pathol. 2007;31:161-9.

"Primary peritoneal" high-grade serous carcinoma is very likely metastatic from serous tubal intraepithelial carcinoma: Assessing the new paradigm of ovarian and pelvic serous carcinogenesis and its implications for screening for ovarian cancer. Gynecol Oncol. 2011;120:470-3.

Serous tubal intraepithelial carcinoma: Its potential role in primary peritoneal serous carcinoma and serous cancer prevention. J Clin Oncol. 2008;26:4160-5.

Peritoneal washing cytology in patients with BRCA1 or BRCA2 mutations undergoing risk-reducing salpingo-oophorectomies: A 10-year experience and reappraisal of its clinical utility. Gynecol Oncol. 2012;125:683-6.

Value of mesothelial and epithelial antibodies in distinguishing diffuse peritoneal mesothelioma in females from serous papillary carcinoma of the ovary and peritoneum. Histopathology. 2002;40:237-44.

Adenocarcinoma cells in effusion cytology as a diagnostic pitfall with potential impact on clinical management: A case report with brief review of immunomarkers. Diagn Cytopathol 2012 In press

Ascitic fluid cytology of a malignant mixed Müllerian tumor of the peritoneum: A report of two cases with special reference to p53 status. Diagn Cytopathol. 2009;37:281-5.

Immunocytochemistry of mesenteric malignant mixed müllerian tumour in peritoneal effusion cytology: Case report. Cytopathology. 2012;23:334-7.

Ectopic decidua in abdominal washings found intraoperatively at cesarean section. Diagn Cytopathol. 2010;38:740-1.

The histologic type and stage distribution of ovarian carcinomas of surface epithelial origin. Int J Gynecol Pathol. 2004;23:41-4.

Immunohistochemistry in the distinction between primary and metastatic ovarian mucinous neoplasms. J Clin Pathol. 2012;65:596-600.

Immunohistochemical expression of CDX2 in primary ovarian mucinous tumors and metastatic mucinous carcinomas involving the ovary: Comparison with CK20 and correlation with coordinate expression of CK7. Mod Pathol. 2006;19:1421-8.

Cytokeratins 7 and 20 in primary and secondary mucinous tumors of the ovary: Analysis of coordinate immunohistochemical expression profiles and staining distribution in 179 cases. Am J Surg Pathol. 2006;30:1130-9.

Excessive formation of basement membrane substance in clear-cell carcinoma of the ovary: Diagnostic value of the "raspberry body" in ascites cytology. Diagn Cytopathol. 1997;16:500-4.

Cytologic features of clear cell carcinoma of the female genital tract. Diagnostic value of the "raspberry body" in nonexfoliative cytologic specimens. Acta Cytol. 2004;48:47-51.

Clear-cell adenocarcinoma of the female genital tract: Presence of hyaline stroma and tigroid background in various types of cytologic specimens. Diagn Cytopathol. 2005;32:336-40.

Cytomorphologic features of immature ovarian teratoma in peritoneal effusion: A case report. Diagn Cytopathol. 2005;33:39-42.

Immature teratoma of the ovary on fluid cytology. Diagn Cytopathol. 2001;25:411-4.

Ovarian and omental ependymomas in peritoneal washings: Cytologic and immunocytochemical features. Diagn Cytopathol. 1986;2:62-8.

Cytologic features of malignant ovarian monodermal teratoma with an ependymal component in peritoneal washings. Int J Gynecol Pathol. 1992;11:299-303.

Chronic ovarian pregnancy mimicking an ovarian tumor diagnosed by peritoneal washing cytology: A case report. Acta Cytol. 2009;53:195-7.

Unusual ovarian malignancies in ascitic fluid: A report of 2 cases. Acta Cytol. 2010;54:611-7.

Peritoneal cytology of uncommon ovarian tumors. Diagn Cytopathol. 1992;8:98-106.

Pelvic washing cytology of ovarian Sertoli-Leydig-cell tumor with retiform pattern: A case report. Diagn Cytopathol. 2003;29:28-30.

Granulosa cell tumor of the ovary: Cytologic findings. Acta Cytol. 2010;54:551-9.

Cytology of granulosa cell tumor of the ovary. Am J Clin Pathol. 1986;85:402-5.

Cytologic features of granulosa cell tumors in fluids and fine needle aspiration specimens. Acta Cytol. 2004;48:315-20.

Small-cell carcinoma of the ovary in peritoneal fluid. Diagn Cytopathol. 1994;11:266-70.

Displaced granulosa cells in peritoneal washings: A rare diagnostic pitfall. Cytopathology. 2011;22:202-4.

Ascitic fluid cytology in malignant Brenner tumor: A case report. Acta Cytol. 2010;54:598-600.

Primary squamous cell carcinoma of the ovary.Report of 37 cases. Am J Surg Pathol. 1996;20:823-33.

Carcinoma of the fallopian tube.FIGO 26 th Annual Report on the Results of Treatment in Gynecological Cancer. Int J Gynaecol Obstet. 2006;95:S145-60.

Peritoneal cytology in malignant mixed müllerian tumors of the uterus. Gynecol Oncol. 1989;33:91-5.

Peritoneal washing cytology findings of disseminated myxoid leiomyosarcoma of uterus: Report of a case with emphasis on possible differential diagnosis. Diagn Cytopathol. 2002;27:47-52.

Peritoneal washing cytology of disseminated low grade endometrial stromal sarcoma: A case report. Acta Cytol. 2009;53:587-90.

Cytomorphologic features of low-grade endometrial stromal sarcoma. Am J Clin Pathol. 2007;128:265-71.

The clinical utility of peritoneal washing in gynecologic surgery and potential cost saving with elimination of unnecessary specimen processing. J Am Soc of Cytopathol. 2012;1:S17-8.

Benign multicystic peritoneal mesothelioma. Int J Gynaecol Obstet. 2006;93:267-8.

Cytology of benign multicystic peritoneal mesothelioma in peritoneal washings. Cytopathology. 2008;19:224-8.

Well-differentiated papillary mesothelioma of the female peritoneum: A clinicopathologic study of 26 cases. Am J Surg Pathol. 2012;36:117-27.

Heterozygous loss of NF2 is an early molecular alteration in well-differentiated papillary mesothelioma of the peritoneum. Cancer Genet. 2012;205:594-8.

Fine-needle aspiration of a well-differentiated papillary mesothelioma in the inguinal hernia sac: A case report and review of literature. Diagn Cytopathol. 2009;37:748-54.

Well-differentiated papillary mesothelioma in the pelvic cavity.A case report. Acta Cytol. 2003;47:88-92.

Malignant transformation of a well-differentiated peritoneal papillary mesothelioma. Acta Cytol. 2003;47:517-8.

Guidelines for Pathologic Diagnosis of Malignant Mesothelioma: 2012 Update of the Consensus Statement from the International Mesothelioma Interest Group. Arch Pathol Lab Med 2012 In press

Cytomorphologic features of primary peritoneal mesothelioma in effusion, washing, and fine-needle aspiration biopsy specimens: Examination of 49 cases at one institution, including post-intraperitoneal hyperthermic chemotherapy findings. Am J Clin Pathol. 2007;128:414-22.

"Signet-ring" cells – A caveat in the diagnosis of a diffuse peritoneal mesothelioma occurring in a lady presenting with recurrent ascites: An unusual case report. Diagn Cytopathol. 2010;38:435-9.

Applications and limitations of immunohistochemistry in the diagnosis of malignant mesothelioma. Adv Anat Pathol. 2006;13:316-29.

The diagnostic utility of p16 FISH and GLUT-1 immunohistochemical analysis in mesothelial proliferations. Am J Clin Pathol. 2011;135:619-27.

Pathology and prognosis in pseudomyxoma peritonei: A review of 274 cases. J Clin Pathol. 2012;65:919-23.

Epithelial cells and other cytologic features of pseudomyxoma peritonei in patients with ovarian and/or appendiceal mucinous neoplasms: A study of 12 patients including 5 men. Cancer. 2000;90:17-23.

WHO Classification of Tumours of the Digestive System (4th ed). Lyon: IARC; 2010.

Gelatinous ascites: A cytohistologic study of pseudomyxoma peritonei in 67 patients. Mod Pathol. 2001;14:664-71.

From conventional fluid cytology to unusual histological diagnosis: Report of four cases. Diagn Cytopathol 2011 [Epub ahead of print]
Show Sections