Gateway to the Latest Developments in the field of Diagnostic Cytopathology including Molecular aspects.
ISSN (Print): 0974-5963, ISSN (Online): 1742-6413
Frequency of publication: Continuous | Language of publication: English
Starting year: 2002 | Format of publication: Print + Online
The CytoJournal is an open-access peer-reviewed journal committed to publishing high-quality articles in the field of Diagnostic Cytopathology including Molecular aspects.
We are accepting new
manuscripts, please submit your
manuscript to us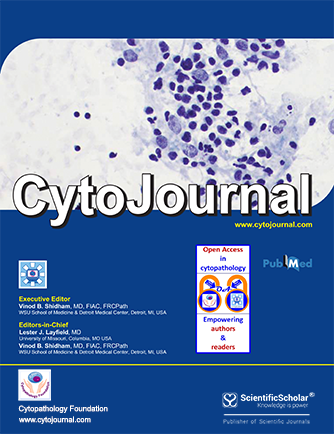 Read CytoJournal issues similar to print copy, free print for CF members.
Abstracting and Indexing Information
The journal is indexed with or included in the following:PubMed Central, Scimago Journal Ranking, SCOPUS, Science Citation Index Expanded
Impact Factor® as reported in the 2021 Journal Citation Reports®(Clarivate Analytics 2022): 2.345
The journal is registered with the following abstracting partners:EBSCO, Google Scholar, ProQuest, CrossRef, ReadCube, EMBASE/ Excerpta Medica, Portico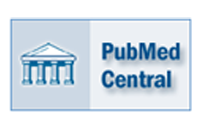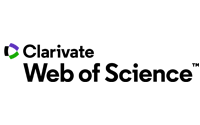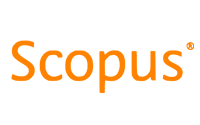 Join now as Cytopathology Foundation (CF) Member
Download FREE PDFs and Publish FREE in CytoJournal (total waiver of APC of $1500 for any number manuscripts accepted after peer-review  during CF membership in good standing). Additional benefits include significant discount in conference and after publication by
Cytopathology Foundation
Inc. Support open-access of peer-reviewed scientific literature in Diagnostic Cytopathology.
Recently Published Articles
Durre Aden, Anuradha Saini, Mukul Singh, Sufian Zaheer
CytoJournal 20 (12) (5th May, 2023)
Vimal Krishnan, Aaron R. Victor, Shikha Bose, Rania Bakkar
CytoJournal 20 (11) (5th May, 2023)
Kanwarpreet Kaur Cheema, Prem Singh, Maitrayee Roy, Shiv Pankaj Khanna
CytoJournal 20 (10) (7th April, 2023)