Translate this page into:

CytoJournal Monograph Related Review Series
doi:
10.25259/CMAS_02_11_2021
Serous cavity metastasis: Evaluation of unknown primary
1
Department of Pathology and Laboratory Medicine

,

Temple University Hospital and Lewis Katz School of Medicine at Temple University, Philadelphia, PA

,

USA
2
Department of Pathology

,

University of Michigan, Ann Arbor, MI

,

USA

*
Corresponding author: Liron Pantanowitz, MD, MHA Department of Pathology, University of Michigan, Ann Arbor, Michigan, United States. lironp@med.umich.edu
Received: , Accepted: ,
© 2022 Cytopathology Foundation Inc, Published by Scientific Scholar
Licence
This is an open-access article distributed under the terms of the Creative Commons Attribution-Non Commercial-Share Alike 4.0 License, which allows others to remix, transform, and build upon the work non-commercially, as long as the author is credited and the new creations are licensed under the identical terms.
How to cite this article: Jhala N, Arriola A, Pantanowitz L. Serous cavity metastasis: Evaluation of unknown primary. CytoJournal 2022;19:16.
HTML of this article is available FREE at: https://dx.doi.org/10.25259/CMAS_02_11_2021
Abstract
Malignant effusions can occur in patients with neoplasia. Once a metastatic diagnosis is confirmed, the primary site of origin of malignancy needs to be ascertained. This task can be challenging without a prior history of malignancy. In some patients their effusion may be the initial presentation of an underlying malignancy. Metastases usually present with a dual population of mesothelial and malignant cells. Combining cytomorphologic examination with ancillary testing such as immunocytochemistry can help identify the origin of the foreign malignant cell population. Helpful architectural clues include a single cell pattern, solid cell ball pattern, single file arrangement, papillary formation, psammoma bodies and background mucin. Useful cellular features include the presence of signet ring cells, small cells, pleomorphic and multinucleated giant cells, squamous cells, spindle cells and pigmentation. Rarely, despite an extensive work-up the primary site of origin for a malignant effusion may remain unresolved. This review article will be incorporated finally as one of the chapters in CMAS (CytoJournal Monograph/Atlas Series) #2. It is modified slightly from the chapter by the initial authors in the first edition of Cytopathologic Diagnosis of Serous Fluids.
Keywords
Adenocarcinoma
cytology
effusion
immunohistochemistry
metastasis
tumor of unknown origin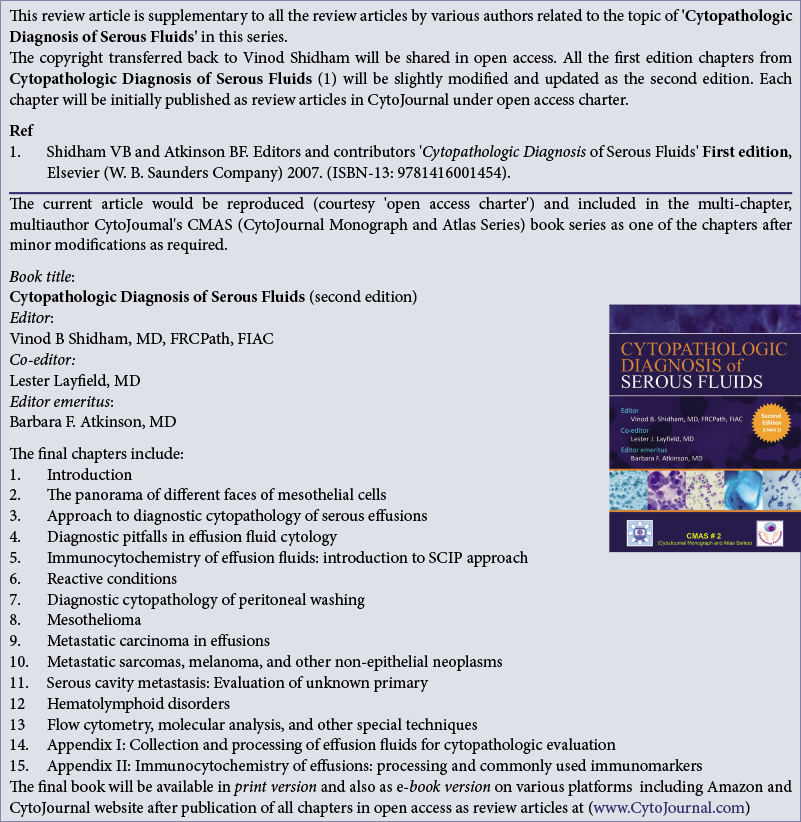 INTRODUCTION
The accumulation of excess fluid (effusion) in any body cavity is always pathologic. About 15% of effusions are due to involvement by a malignancy,[1] indicating that malignant effusions are a likely occurrence in patients with neoplastic disease. Effusions can be caused by primary or secondary neoplastic disease. Examples of a primary neoplasm involving the body cavity are mesothelioma and primary effusion lymphoma (PEL). Secondary involvement, which is more common, can be due to direct extension of neoplasia involving the serosal lining or from distant metastasis. The development of a malignant effusion including ascites usually indicates a grave prognosis for patients with cancer; the mean survival time in afflicted patients is usually measured in weeks or months. Therefore, the primary indication for cytologic examination of exfoliated cells in body cavity fluids is to rule out malignancy.
Once a diagnosis of malignancy is established, the next step is to determine the primary tumor's site of origin. Despite the grave prognosis, it is clinically important to identify the primary site of origin of the malignancy because this may dictate subsequent management. For example, malignant effusions caused by lymphoma, metastatic breast cancer, ovarian cancer, and small cell lung carcinoma may all respond to targeted systemic chemotherapy or hormonal therapy, whereas effusions secondary to more therapy-resistant cancers such as mesothelioma, non-small-cell lung carcinoma or certain sarcomas may instead be treated with palliative measures, such as pleurodesis or a pleuroperitoneal shunt.[2,3]
This chapter provides an approach to determine the primary site of origin of a malignant effusion, once a diagnosis of malignant mesothelioma is ruled out.
CLINICAL FINDINGS
In most instances, patients who are found to have malignant cells in their body cavity fluids have a known history of a malignant neoplasm. Since metastatic tumors originating from a recognized primary tumor often resemble each other, the answer to the origin of these malignant cells is usually straightforward by doing a comparative evaluation of their cytomorphology. The task for the cytologist is to accordingly ascertain that the cytologic morphology of the malignant cells in the current fluid specimen corresponds to that of the primary neoplasm. If available, review of any prior surgical and/or cytologic material would hence greatly aid this process. However, it is important to be aware that metastatic tumors may differ from primary tumors because (i) tumor cells, even those that were originally spindled, when present within body fluids have a tendency to round up and hence appear epithelioid, (ii) metastases may be more aggressive and thus could be less differentiated and/or vary in tumor grade, and (iii) their immunophenotype may be altered, typically due to loss of particular biomarker expression.
When a clinical history of a prior malignancy is not available, determining the origin of the primary neoplasm can be a challenge. Furthermore, in a small proportion of patients, a malignant effusion may be the initial presentation of an underlying malignant neoplasm.[4] In a series of 154 cases with malignant ascites and 174 malignant pleural effusions, researchers reported that ascites and pleural effusions were the presenting sign of cancer in 7% and 14% of patients, respectively.[5] The patients' sex and age, as well as the location of the effusion (e.g. above/below the diaphragm), and pertinent laboratory test values (e.g. serum tumor markers) can sometimes help narrow the list of differential diagnoses. For example, papillary serous ovarian carcinoma should be at the top of the list of differential diagnoses in elderly female patients who present with malignant ascites as the first evidence of cancer,[6] especially if their serum CA-125 levels are elevated. When malignant ascites is the initial presentation of cancer in male adult patients, a tumor of gastrointestinal origin should be suspected.[7] For malignant pleural effusions, lung cancer is usually the most likely primary tumor to present as the first sign of cancer in male adult patients.[8-9] In female adult patients, breast cancer is the most common metastatic tumor encountered in pleural fluid. Of note, breast ductal carcinoma typically metastasizes to pleural effusions, whereas lobular breast carcinoma is seen more often in peritoneal fluid.
Malignant effusions are uncommon in children. In a published series of 103 pediatric specimens obtained from various body cavities, 14% were classified as malignant.[10] Most of these malignant effusions were caused by lymphoma and leukemia followed by the so-called small round blue cell tumors (SRBCTs) of childhood such as neuroblastoma, Wilms tumor, and rhabdomyosarcoma.[10-11] Germ cell tumors, metastatic osteosarcoma, and medulloblastoma may also cause malignant effusions in children and young adults.
CYTOLOGY
Metastatic malignancy usually presents with a dual population including reactive mesothelial cells and a foreign malignant population of atypical cells. A practical and logical approach to help figure out the possible tumor of origin for a malignant effusion is based on the cytologic cellular pattern and individual cell appearance of the tumor cells.[12] Table 1 summarizes the differential diagnosis of a malignant effusion based on such cytologic features.
Cytologic features
Most likely primary tumor sites
Others possible tumor sites
Architecture
Single cell pattern
Lymphoma, leukemia, melanoma
Breast, lung, gastric, & renal carcinoma
Cannonball pattern
Breast (ductal) and ovarian carcinoma
Lung, stomach, & prostate carcinoma
Papillary formation and/or psammoma bodies
Ovarian carcinoma
Thyroid, lung, & kidney carcinoma, mesothelioma
Single file pattern
Breast (lobular) carcinoma
Breast (ductal) carcinoma, small cell carcinoma
Pseudomyxoma peritonei
Mucinous neoplasms of ovary & appendix
Pancreas, colon, endocervix, & breast carcinoma
Cellular features
Signet ring cells
Breast (lobular) & ovarian carcinoma
Gallbladder, colon, pancreas, & ovarian carcinoma
Pigmented cells
Melanoma
Hepatocellular carcinoma
Small cells
Small cell carcinoma (lung, Merkel), breast (lobular) carcinoma, non-Hodgkin lymphoma
(low-grade)
Undifferentiated and high-grade sarcomas (Ewing, Ewing-like, others), melanoma, Wilms tumor, neuroblastoma, medulloblastoma
Squamous cells
Squamous cell carcinoma
Urothelial & NUT carcinoma
Spindle cells
Sarcomas
Spindle cell carcinoma, melanoma, mesothelioma (sarcomatoid)
ANCILLARY STUDIES
Various ancillary studies are often used in evaluating fluid cytology. Such tests are extremely valuable in confirming malignancy, and are especially helpful in distinguishing between mesothelioma and metastatic adenocarcinoma.[40-41] They can also help identify the possible primary site of malignancy. Ancillary studies that have been applied to fluid specimens include cytochemistry, electron microscopy, immunocytochemistry, flow cytometry, fluorescence in situ hybridization (FISH) and molecular testing. Cell-blocks are not only complementary to smears in the detection of malignant effusions, but also provide an important opportunity for immunohistochemical testing and other ancillary studies.[42-44]
Cytochemistry is relatively inexpensive and easy to perform and can offer valuable information for tumor subclassification when used in the appropriate setting. For example, the presence of cytoplasmic melanin pigment in melanoma can be confirmed by the Fontana–Masson method, which relies upon melanin granules to reduce ammoniacal silver nitrate. In addition, demonstration of mucin production favors a diagnosis of adenocarcinoma.[45-47] Electron microscopy for investigation of effusions is rarely used today.
Immunocytochemistry is the most commonly employed ancillary technique in fluid cytology.[42,43] Running a panel of immunostains with SCIP (subtractive coordinate immunoreactivity pattern) approach[42] has proven to be very helpful in the differential diagnosis between mesothelioma and metastatic adenocarcinoma. Commonly used markers for adenocarcinoma include MOC-31, claudin-4, CEA, B72.3 and Ber-EP4.[48] They often demonstrate immunoreactivity with a wide variety of adenocarcinomas; therefore, they are useful in separating adenocarcinomas from mesothelioma.[49-51] Claudin-4 has been shown to perform superiorly compared to BerEP4 and B72.3 (out of two, BerEP4 is more sensitive as compared to B72.3) in distinguishing adenocarcinoma from mesothelial cells in pleural effusions.[52] However, none of these markers are sufficiently specific to classify malignant effusions according to the tumor origin.[53] Therefore, more specific markers are often necessary to further characterize malignant effusions [Table 2].
| Primary tumor | Positive immunomarkers |
| --- | --- |
| Prostate adenocarcinoma | Androgen receptor, NKX3.1, PSA, PSMA, PSAP |
| Lung adenocarcinoma | TTF-1, Napsin-A, surfactant protein A |
| Small cell carcinoma | Synaptophysin, chromogranin, CD56, TTF-1, INSM1, POUF2F3 |
| Breast carcinoma | Mammaglobin, GATA-3, GCDFP-15, TRPS1, ER |
| Papillary thyroid carcinoma | PAX-8, TTF-1, thyroglobulin |
| Ovarian carcinoma | PAX-8, CA-125, WT1, ER |
| Hepatocellular carcinoma | CAM5.2, HepPar-1, arginase-1, TTF-1 (cytoplasmic), AFP, pCEA |
| Renal cell carcinoma | PAX-8, CA-9, RCC, CD10 |
| Colorectal adenocarcinoma | CK20, CDX2, SATB-2 |
| Melanoma | S-100, SOX-10, Melan-A/Mart-1, HMB-45, tyrosinase, MITF, PRAME |
| Non-Hodgkin lymphoma | LCA (CD45), B-cell markers, T-cell markers |
| Mesothelioma | Calretinin, D2-40, WT1, CK5/6, GLUT-1, EMA, GATA3, IMP3, mesothelin |
Owing to the restricted expression of certain cytokeratins (CKs): namely CK7 and CK20 [Figure 17] in various epithelia and their malignant counterparts, coordinate immunoreactivity pattern for CK7 and 20 is often used together as an aid in identifying broad categories of primary site of origin of metastatic carcinomas.[54-58] The combination of CK7 and CK20 results in four immunoprofiles: CK7+/CK20−, CK7−/CK20+, CK7+/CK20+, and CK7−/CK20 − carcinomas. Table 3 lists the most likely carcinomas that are associated with each of these CK7/CK20 immunophenotypes. Finally, it is important to keep in mind that no biomarker is absolutely specific for a particular tumor, and that any given tumor may occasionally exhibit aberrant immunoreactivity to certain immunomarker.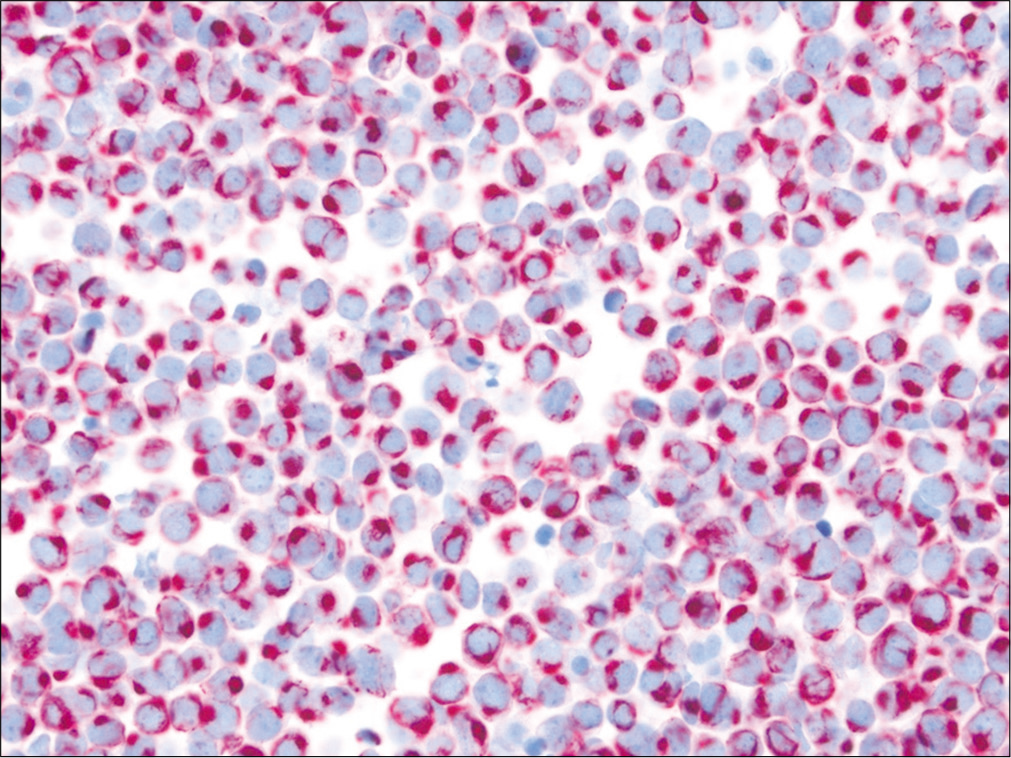 | Immunophenotypic expression | Differential diagnosis |
| --- | --- |
| CK7+/ CK20− | Lung, breast, müllerian (endometrial), thyroid, bladder, upper gastrointestinal, ovarian (non-mucinous), & pancreatobiliary carcinoma; mesothelioma; thymoma |
| CK7−/ CK20+ | Colorectal, Merkel cell, & upper gastrointestinal carcinoma |
| CK7+/ CK20+ | Urothelial, upper gastrointestinal, pancreatobiliary, ovarian (mucinous), rectal, & occasional lung (mucinous) carcinoma |
| CK7−/ CK20− | Hepatocellular, renal, prostate, adrenal cortical, squamous cell, & neuroendocrine carcinoma; germ cell tumor |
SUMMARY
In a small number of patients presenting with a malignant effusion, a clinical history of a prior malignancy may be lacking and the effusion is thus the initial presentation. The search for a primary site of origin for the patient's tumor can be a diagnostic challenge. Both clinical history, radiology imaging findings and cytomorphology can provide important clues regarding the possible primary site of origin. In addition, the judicious use of ancillary studies, particularly immunocytochemistry, can help not only to confirm the diagnosis of metastasis, but also help further narrow down the differential diagnosis of primary site.[42,43] It is important to keep in mind that, on rare occasions, the primary site of origin of a malignant effusion may remain unresolved despite an extensive work-up. For such tumors of unknown origin, identification of the occult primary site of origin may have little impact on the therapeutic choices and the patient's outcome.
STUDY CASES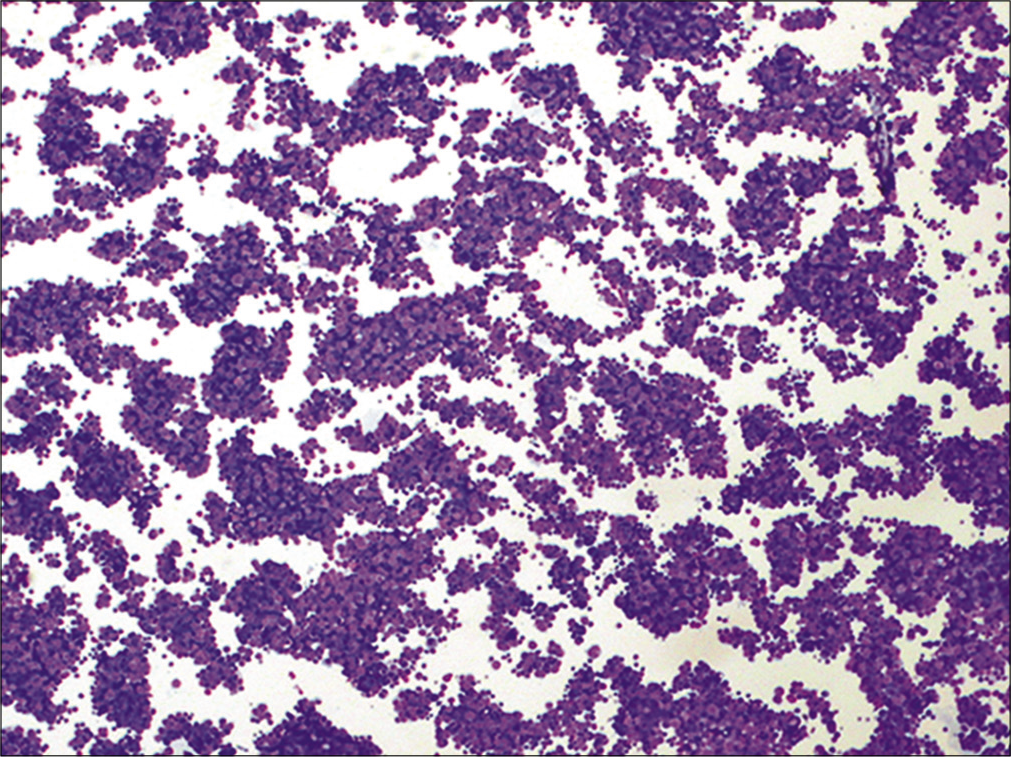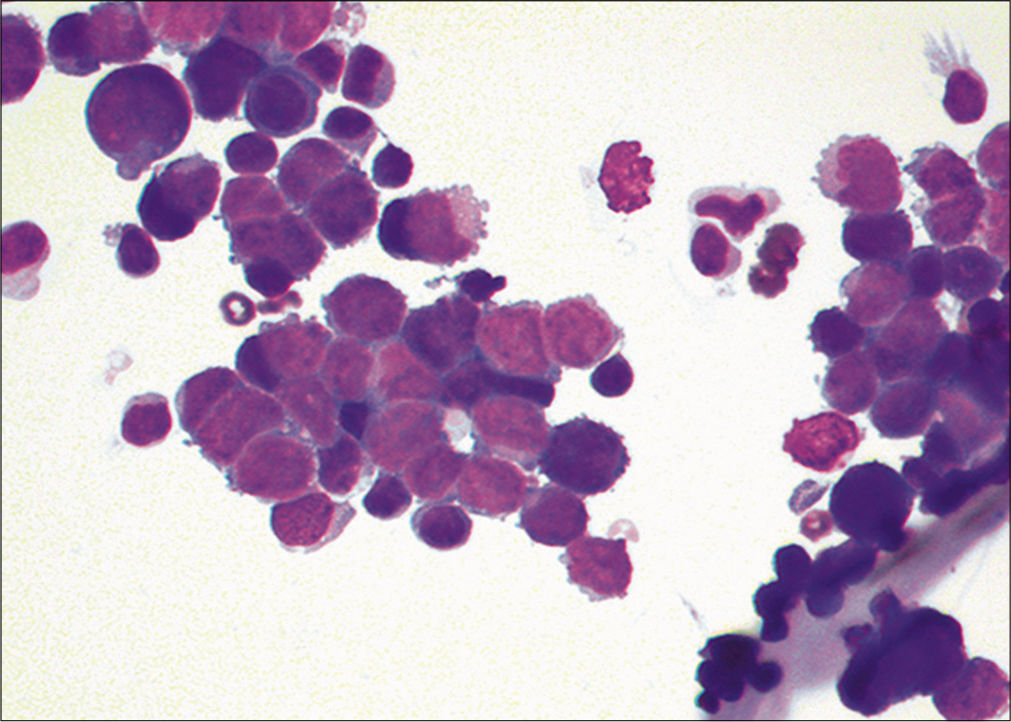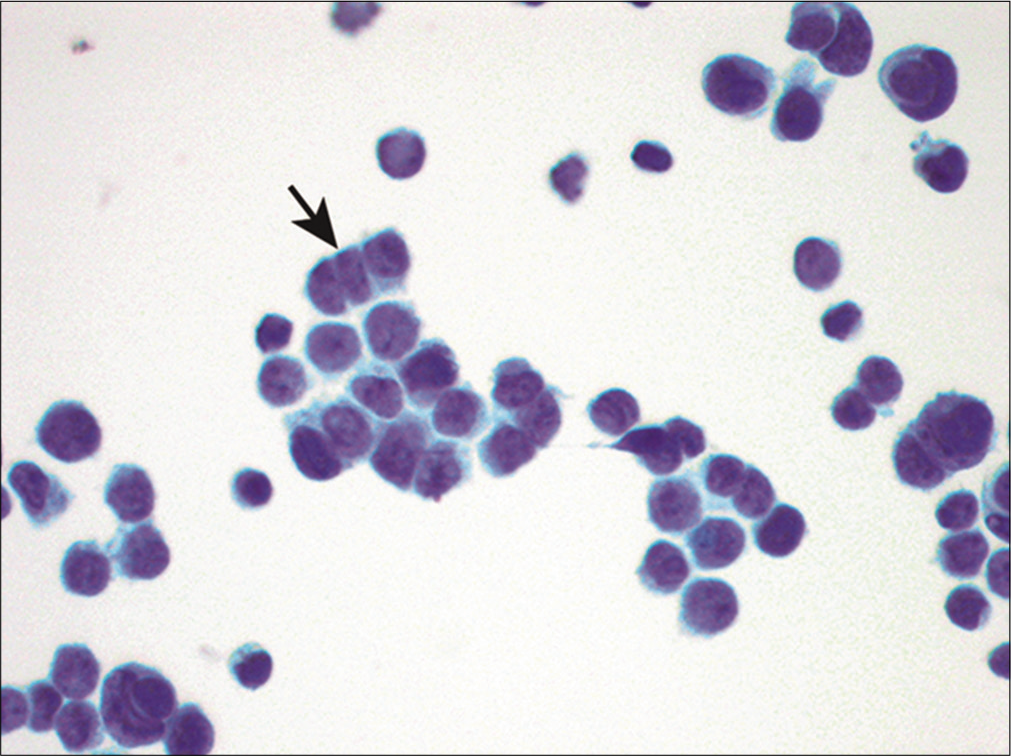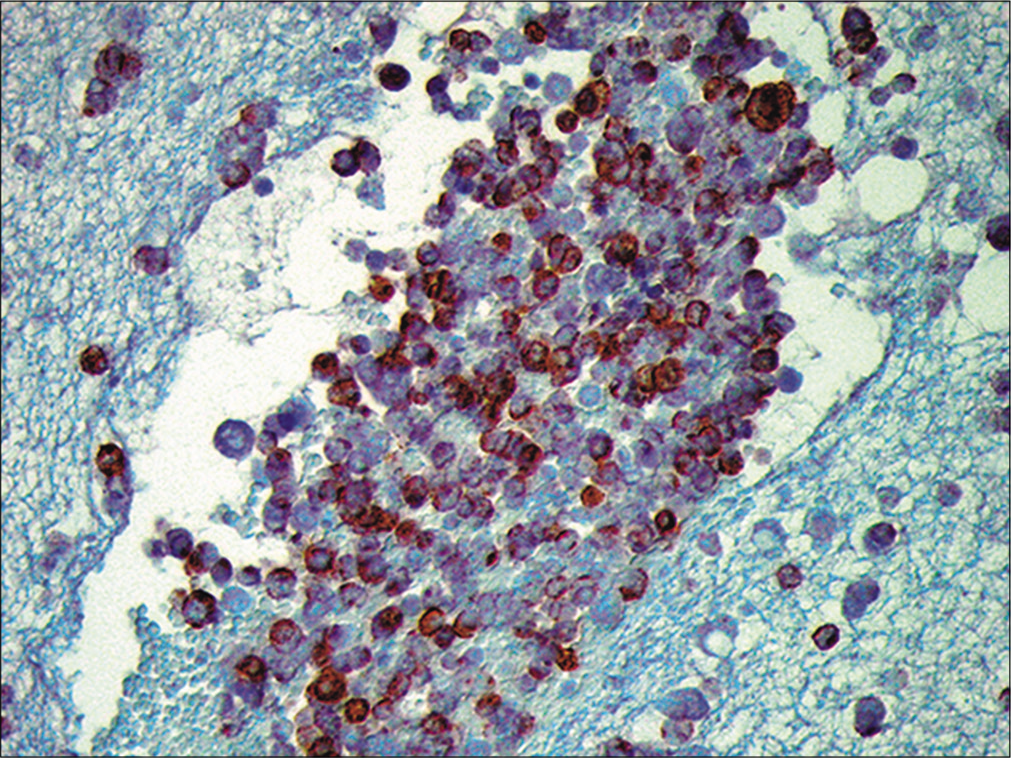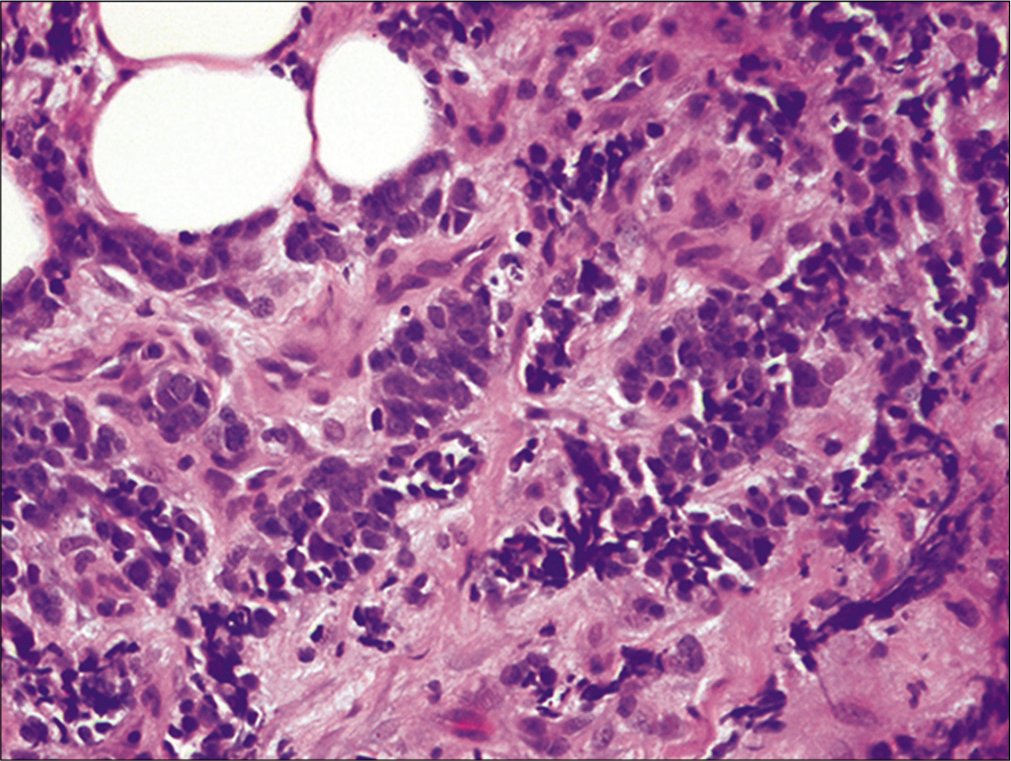 History
A 55-year-old African–American woman presented to the emergency room with fever, chills, and cough. She had been a chronic smoker for over 30 years. Chest X-ray showed a large right pleural effusion and hilar lymphadenopathy. Thoracocentesis produced 1200 mL of straw-colored fluid and was sent for cytologic evaluation. Figures 18-21 show representative images of the malignant effusion.
Diagnosis
Metastatic small cell lung carcinoma
Discussion
The fluid was cellular and demonstrated tight cohesive groups and isolated cells with scant cytoplasm and high nuclear/cytoplasmic ratios. Individual cells were about 2–4 times the size of mature background lymphocytes. Nuclear molding was also apparent. The nuclei demonstrated 'salt and pepper' chromatin without distinct nucleoli. To confirm the diagnosis, immunohistochemistry was performed on a cell-block preparation. The atypical cells were immunoreactive for synaptophysin, chromogranin, and TTF-1 but were non-immunoreactive for calretinin and CK 5/6. These findings supported the diagnosis of small cell carcinoma, most likely of pulmonary origin.
Follow up
This patient also underwent a pleural biopsy at the time of thoracocentesis, which demonstrated a metastatic small cell carcinoma [Figure 22]. Further staging work up revealed multiple liver metastases. This patient was treated with chemotherapy.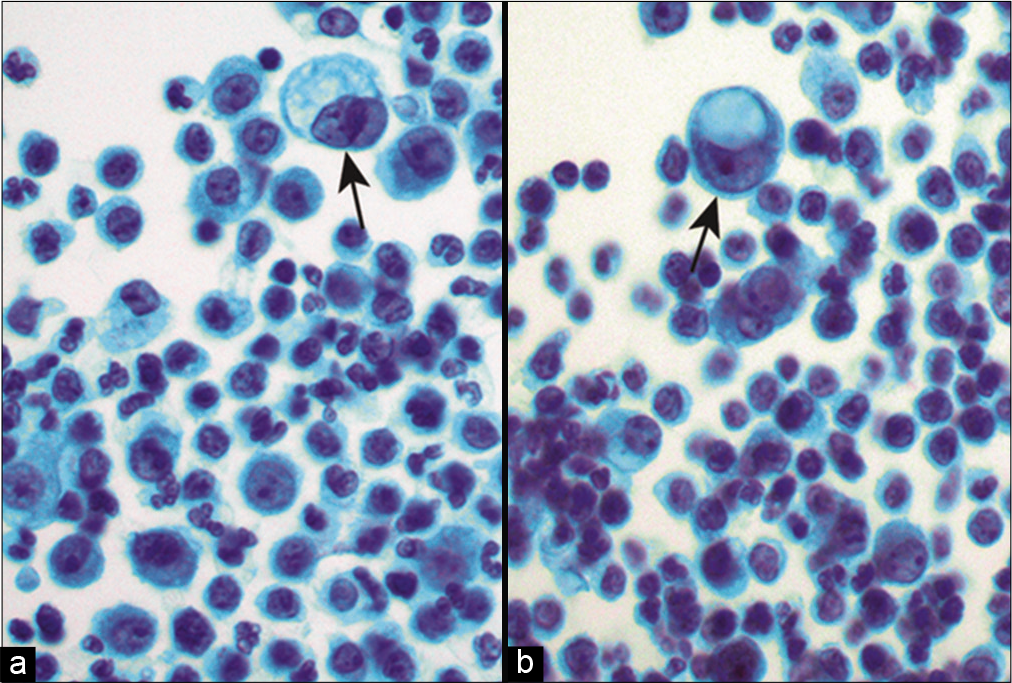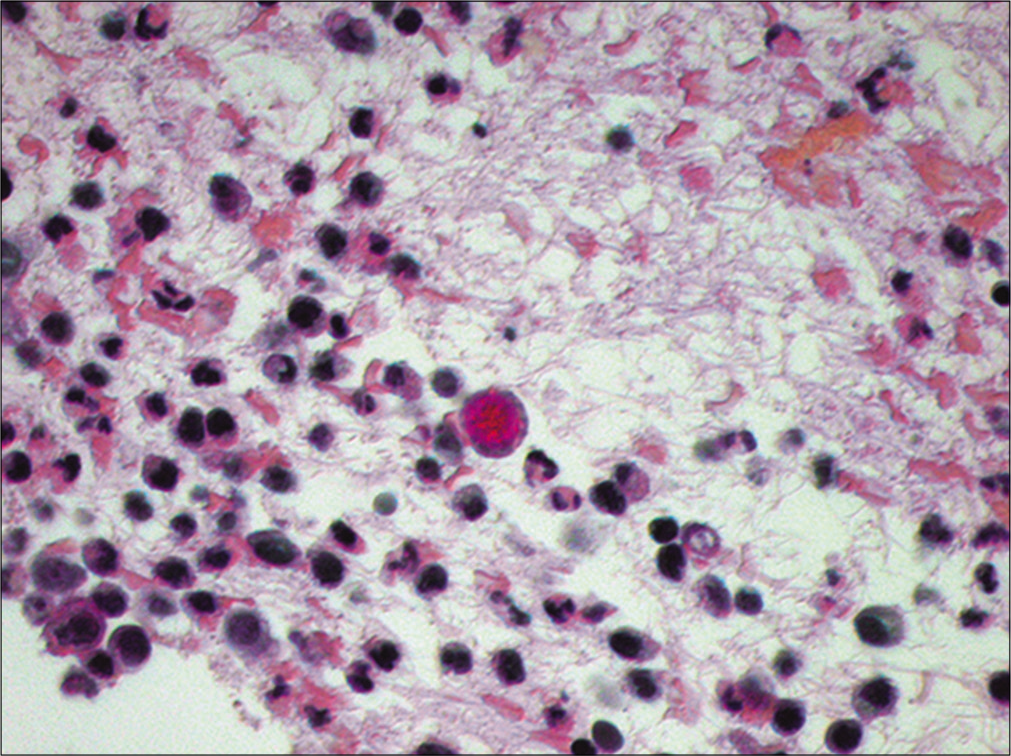 History
A 50-year-old male with a history of heavy alcohol abuse and alcohol-induced gastritis with abdominal pain for 3 days, presented to the emergency room. Physical examination revealed a distended and slightly tender abdomen. A CT scan of his abdomen and pelvis showed a large amount of ascites and multiple peritoneal nodules, as well as thickening of the large and small bowel wall. A paracentesis was performed. Figures 23-24 show representative images of his ascitic fluid.
Diagnosis
Metastatic adenocarcinoma with signet-ring cell features. The likely primary site of this patient's tumor is the upper gastrointestinal tract.
Discussion
The specimen showed numerous isolated atypical cells admixed with inflammatory cells. The atypical cells were large with an increased nuclear/cytoplasmic ratio. The nuclei displayed prominent nucleoli. There were also cells with large cytoplasmic vacuoles displacing the nuclei to the periphery, resulting in a signet-ring cell appearance. These atypical cells were positive for mucicarmine. Immunocytochemistry was performed showing that these tumor cells were immunoreactive for MOC-31 and CK20 with nuclear CDX2 but were non-immunoreactive for nuclear calretinin. The immunostaining pattern was supportive of a metastatic adenocarcinoma. Because of the presence of the signet-ring cells in a male patient, an upper gastrointestinal tract primary was favored.
Follow up
The patient underwent an upper endoscopic examination, which revealed a gastric mucosal irregularity. A gastric biopsy showed a poorly differentiated adenocarcinoma with signet ring cell features [Figure 25]. The patient was discharged to hospice care.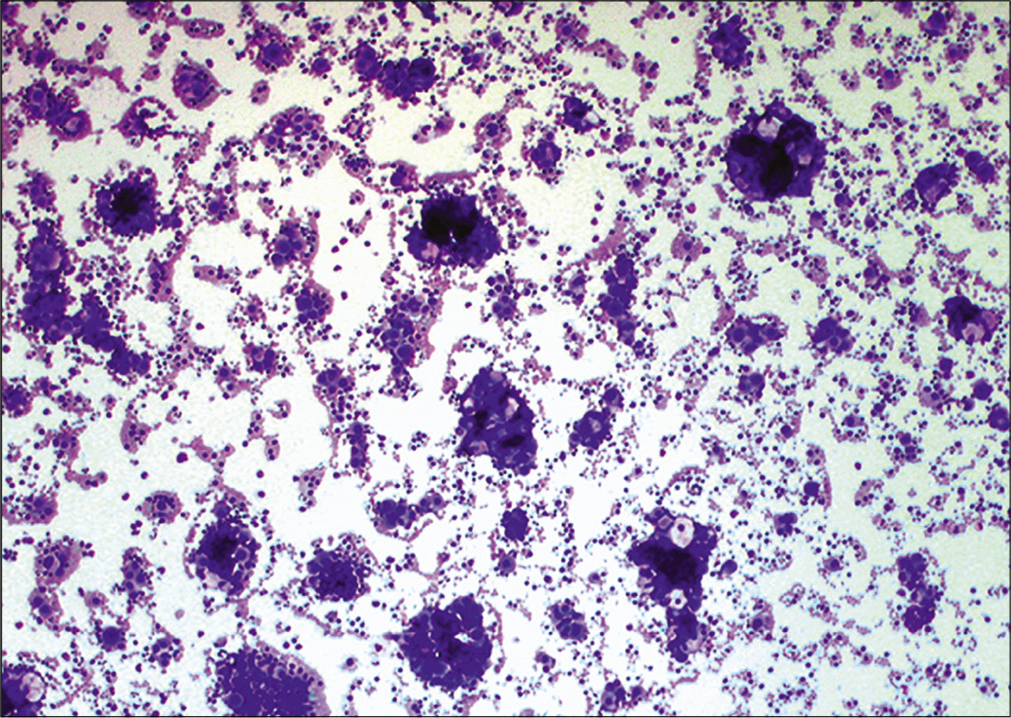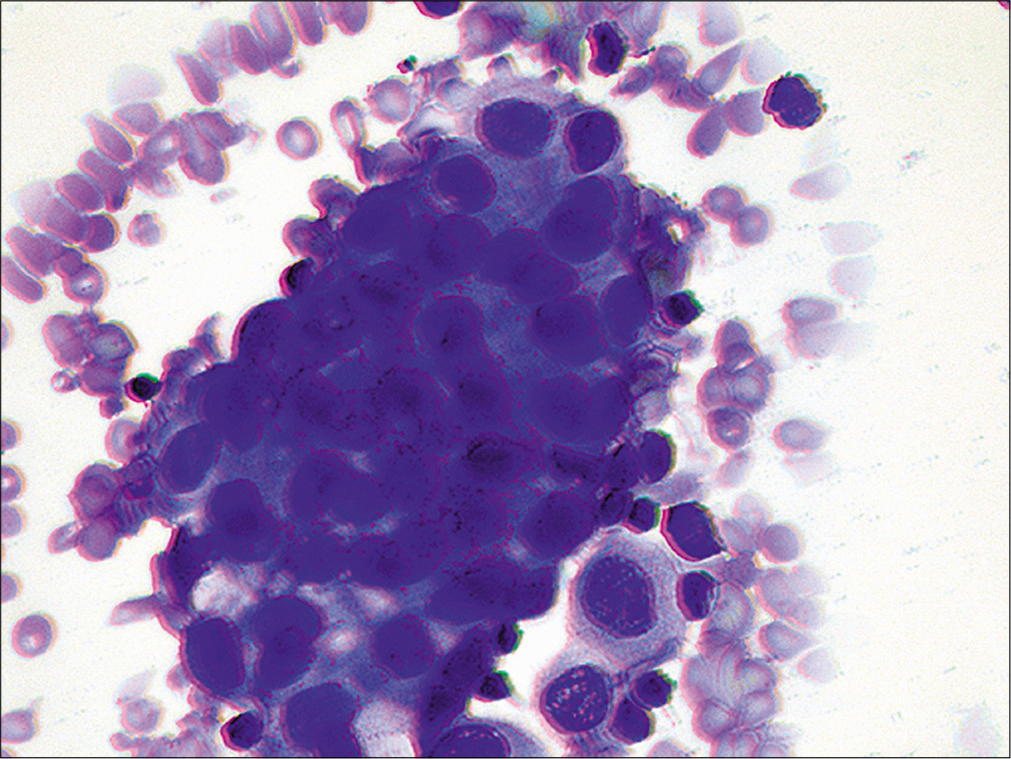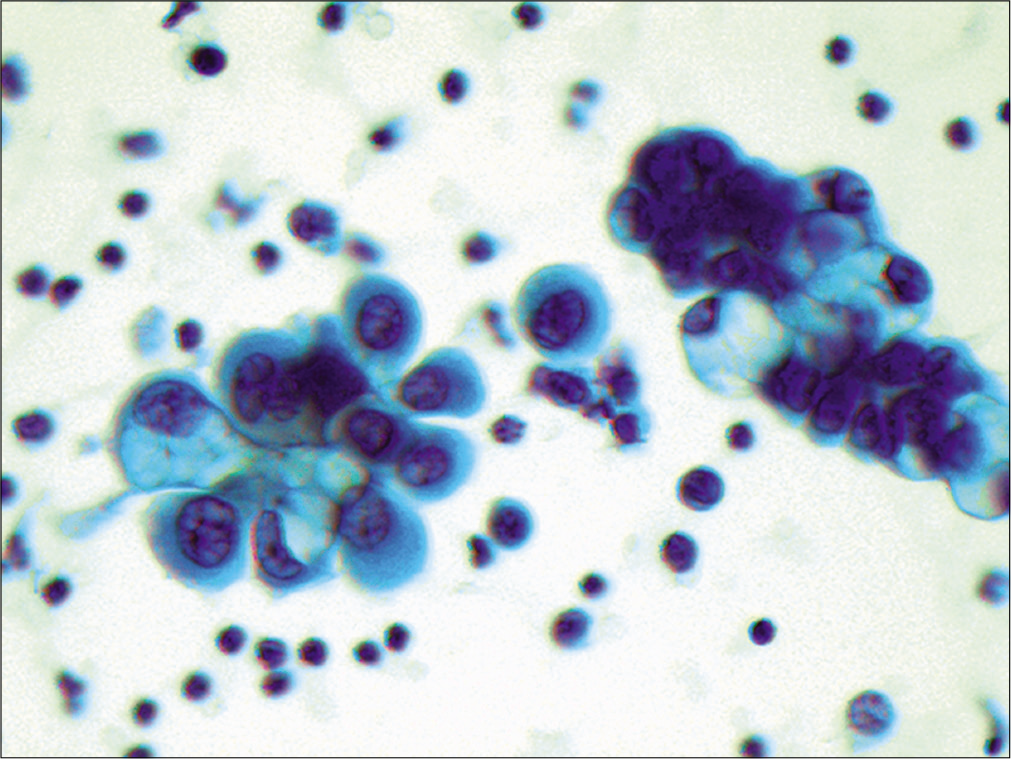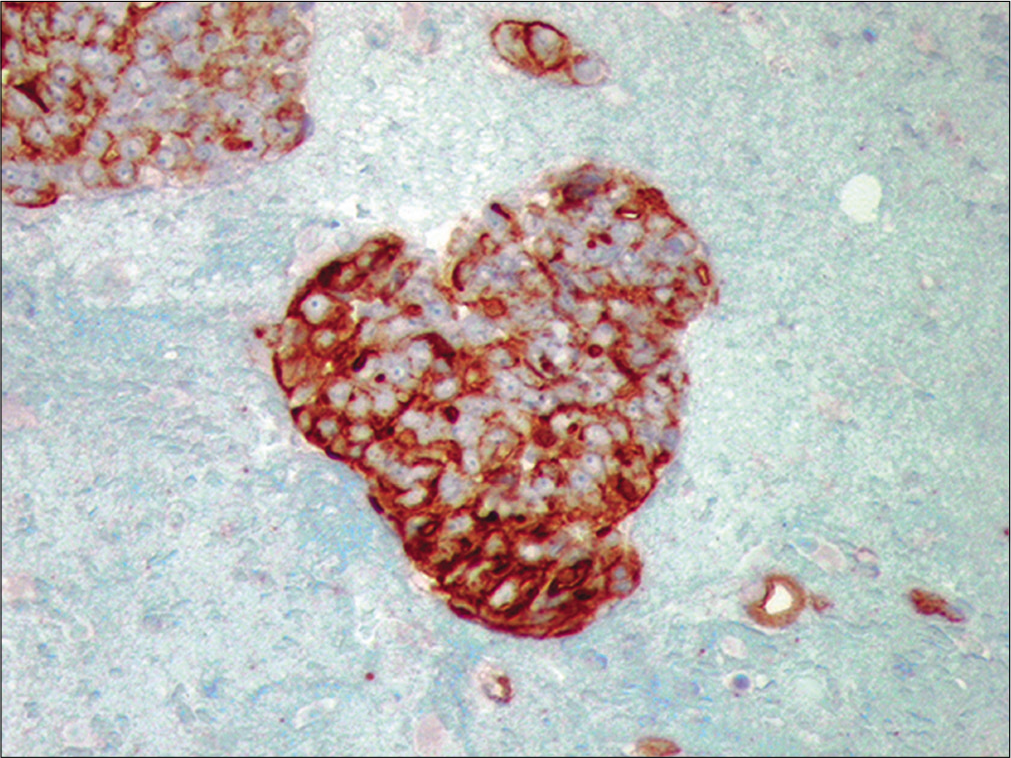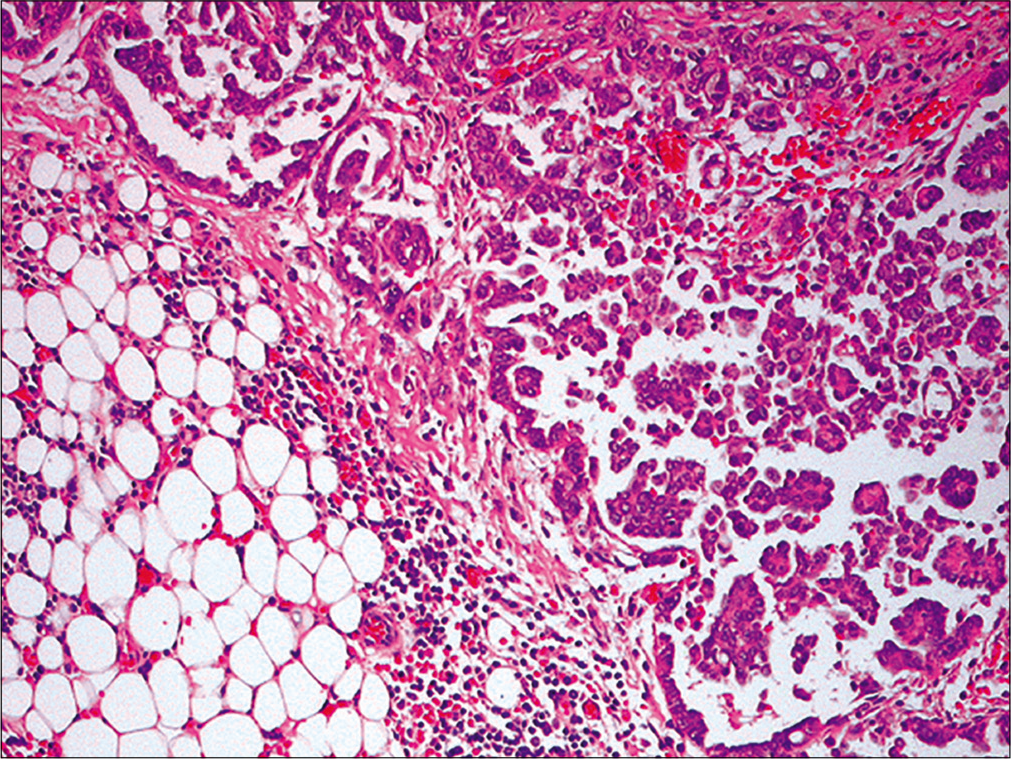 History
A 52-year-old female presented to the emergency room with shortness of breath and increasing abdominal distention for 3 months. Ultrasound examination of the pelvic cavity demonstrated a large intraabdominal fluid collection and a right complex pelvic mass. A paracentesis was performed and 1500 mL of serosanguineous fluid was obtained. Figures 26-29 show representative images of the patient's effusion.
Diagnosis
Metastatic carcinoma, most likely of ovarian origin.
Discussion
At low power, the cytologic findings consisted of multiple three-dimensional, tightly cohesive cell groups, giving rise to a cannonball appearance. Papillary groups were also noted. High magnification revealed large atypical cells with increased nuclear/cytoplasmic ratios and prominent nucleoli. Vacuolated cells were common at the periphery. Immunocytochemistry performed on cell-block material demonstrated positive immunostaining of the tumor cells with MOC-31 and CA-125 but negative immunoreactivity with calretinin and CK5/6. This staining pattern supported an ovarian primary tumor. Recently nuclear immunoreactivity for PAX-8 has shown to be promising for Mullerian primary including ovary [Table 2].
Follow up
The patient underwent a total hysterectomy and bilateral salpingo-oophorectomy with tumor debulking. The histology revealed a papillary serous carcinoma [Figure 30] involving the right ovary and fallopian tube, serosal surface of the uterus and urinary bladder with infiltration into the omentum.
Acknowledgment
Author of this review and editors of CMAS #2 series thank the initial authors (David C Chhieng, MD, PhD; Nirag C Jhala, MD) for all their efforts for the first edition material on which the current review (as chapter #11 in the final CMAS #2) is based.
The author thank Janavi Kolpekwar for copy-editing support.
ABBREVIATIONS (IN ALPHABETIC ORDER)
PEL - primary effusion lymphoma
SRBCTs - Small round blue cell tumors
HIV - Human immunodeficiency virus
SLL/CLL - Small lymphocytic lymphoma/chronic lymphocytic leukemia
HPV - Human Papillomavirus
FISH - Fluorescence in situ hybridization
Show Sections