Translate this page into:

doi:
10.1186/1742-6413-3-2
Thank you reviewers- CytoJournal 2006
Dept of Pathology, Medical College of Wisconsin, Milwaukee, WI, USA
Exective Vice Chancellor & Executive Dean, University of Kansas School of Medicine, Kansas City, KS, USA
Address for correspondence:Vinod Shidham, Dept of Pathology, Medical College of Wisconsin, Milwaukee, WI, USA vshidham@mcw.edu
Received: ,
Licence
This is an Open Access article distributed under the terms of the Creative Commons Attribution License, which permits unrestricted use, distribution, and reproduction in any medium, provided the original work is properly cited.
Disclaimer:
This article was originally published by Medknow Publications and was migrated to Scientific Scholar after the change of Publisher.
Abstract
The Editorial Board of CytoJournal devotes significant efforts, time, and resources to review numerous manuscripts. As it is impossible to include all the experts on the editorial board, there is always a need for additional peers who are requested to join periodically to act as ′academic editors′ and reviewers. We take this opportunity to thank all the reviewers and academic editors who offered their time and efforts by participating in peer-review process for CytoJournal manuscripts. We request their continued enthusiasm to support this important academic exercise.
Editorial
According to the ′close review′ policy of CytoJournal, the peer-reviewers are not identified in the individual manuscripts and articles. But the ′academic editors′, who conduct and complete the peer-review process by appointing reviewers are acknowledged in the articles 11-9]. However, all the submitted manuscripts are not accepted for publication. The academic editors, reviewing such manuscripts, can not be thanked through the published articles. As a token of appreciation and thanks, CytoJournal would publish periodically the list of all the academic editors and reviewers involved in the peer-review process of all the manuscripts submitted to CytoJournal irrespective of their publication status.
On behalf of CytoJournal′s editorial body and Cytopathology-Foundation Inc, we take this opportunity to specifically thank all reviewers and academic editors listed in the Table 1. Their time and efforts for reviewing the manuscript and improving the quality of the published articles in CytoJournal [10-26] is commendable. The quality of peer-review is extremely important to continue and enhance the high standards of CytoJournal.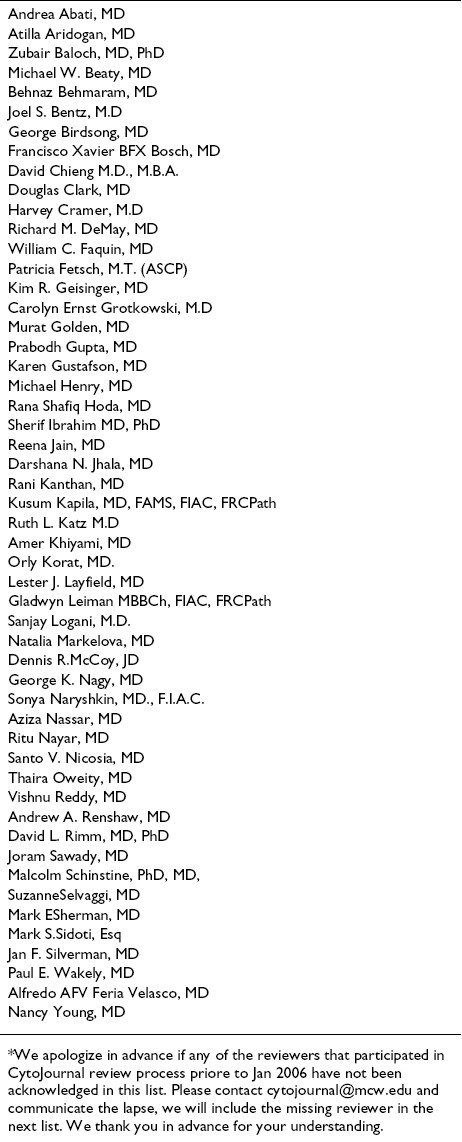 We also thank all the authors that submitted the manuscripts to CytoJournal and supported the ′open access′ initiative in cytopathology. ′Open access′ extends numerous benefits to the authors including the retention of their copyrights to the published material 27.
We invite all the experts in cytopathology and related areas to join the ever increasing demand of good reviewers. High standard of peer-review process of CytoJournal is the topmost agenda at periodic ′reviewer′s retreats′. Existing editorial board members and potential core reviewers could participate at such retreats 28. It is a great opportunity to be involved actively for the benefits of ′open access′ initiative in cytopathology. Open access offers limitless potential advantages to our profession and general public by providing free access to the scientific literature generated by us as academia by collective pro bono hard work. To join as a core reviewer of CytoJournal, please e-mail the details by copy pasting the brief form Table 2in the body of your e-mail and also attaching a copy of your CV to cytojournal@mcw.edu. A list of all the core reviewers of CytoJournal is planned to be displayed on the web page in the future.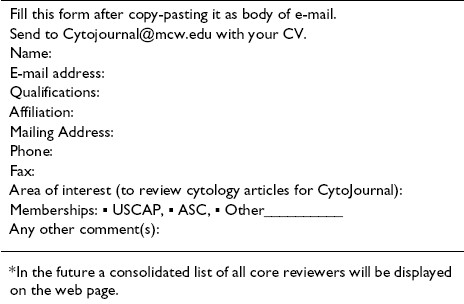 Sincerely,
Vinod B. Shidham, MD, FRCPath, FIAC
Executive editor and co-editor-in-chief
Barbara F. Atkinson, MD
Co-editor-in-chief
We thank Patsy Gill for her secretarial help. We also thank Anjani Shidham for the editing support as managing editor. Secretarial help by Anushree Shidham is also highly appreciated.
Show Sections