Flow cytometry, molecular analysis, and other special techniques (in Serous Fluid Cytopathology)
Director of Hematopathology and Hematopathology Fellowship

,

Department of Pathology, Wayne State University School of Medicine, Karmanos Cancer Center, Detroit, Michigan

,

United States

*
Corresponding author: Ali Gabali, MD, PhD, Professor, Director of Hematopathology and Hematopathology Fellowship, Department of Pathology, Wayne State University School of Medicine, Karmanos Cancer Center, Detroit, Michigan, United States. agabali@med.wayne.edu
Received: , Accepted: ,
© 2022 Cytopathology Foundation Inc, Published by Scientific Scholar
Licence
This is an open-access article distributed under the terms of the Creative Commons Attribution-Non Commercial-Share Alike 4.0 License, which allows others to remix, transform, and build upon the work non-commercially, as long as the author is credited and the new creations are licensed under the identical terms.
How to cite this article: Gabali A. Flow cytometry, molecular analysis, and other special techniques (in Serous Fluid Cytopathology). CytoJournal 2022;19:18.
HTML of this article is available FREE at: https://dx.doi.org/10.25259/CMAS_02_13_2021
Abstract
Morphological and architectural pattern evaluations play a major role in the rpretation of hematopoietic neoplasms. However, confirmation of diagnosis, classification, prognosis, and risk stratification are highly dependent on the utilization of multiple ancillary studies. The importance of these ancillary studies increases in evaluating serous fluid samples, as these samples lack architecture and patterns. Likewise, the morphology can be disturbed by sample preparation. The most common ancillary studies utilized are flow cytometry, immunohistochemistry for immunophenotyping, Fluorescent In Situ Hybridization (FISH), cytogenetics for structural and gene rearrangements, and molecular studies for mutational analysis. Among them, flow cytometry analysis is the handiest test to perform with high diagnostic yield on serous fluid specimens. In this article we will discuss the use, caveat, and role of the most common ancillary studies on serous fluid specimen evaluation. This review article will be incorporated finally as one of the chapters in CMAS (CytoJournal Monograph/Atlas Series) #2. It is modified slightly from the chapter by the initial authors (Choladda Vejabhuti, MD and Chung-Che (Jeff) Chang, MD, PhD) in the first edition of Diagnostic Cytopathology of Serous Fluids.
Keywords
Lymphoma
Leukemia
Serous Fluid
Flow cytometry
Immunohistochemistry
Fluorescent In Situ Hybridization (FISH)
Cytogenetics
Molecular analysis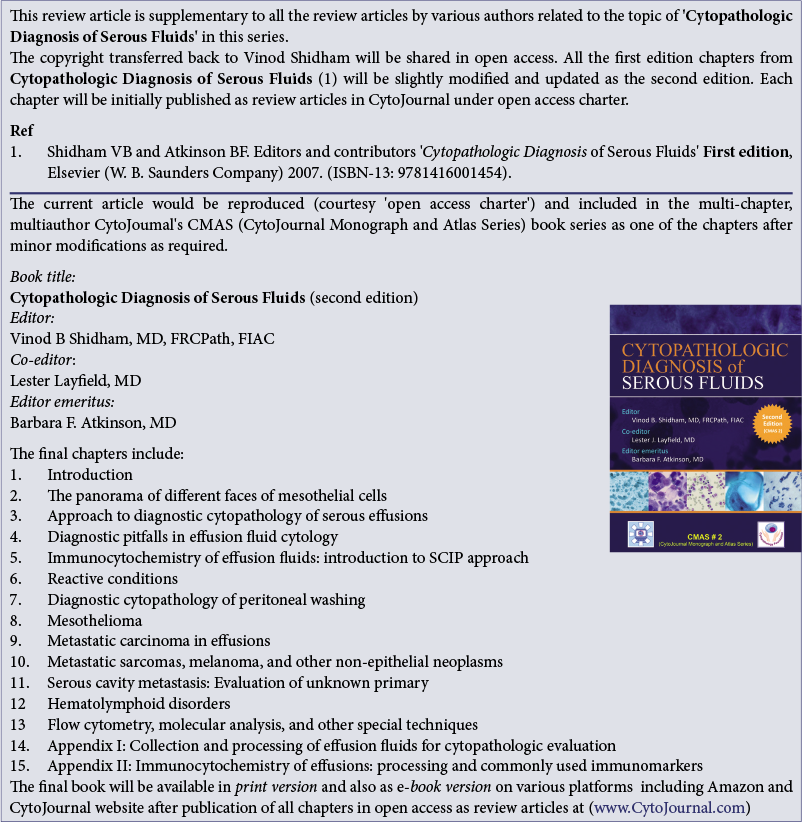 Flow cytometry, molecular analysis and other special techniques, have become important adjunctive tools for the evaluation of effusion fluids. Although the majority of these techniques are applied to hematopoietic neoplasms, there has been an increased use of these methods for solid neoplastic and non-neoplastic processes, especially characterizing infectious diseases. Even though these ancillary techniques have limitations and may not be indicated in every case, their application may be helpful in rendering the diagnosis in many cases. • The purpose of this review is to summarize the application of these molecular, and other, special techniques to effusion fluids.
Acknowledgment
Author of this review article and editors of CMAS #2 series thank the initial authors (Choladda Vejabhuti, MD and Chung-Che (Jeff) Chang, MD, PhD) for all their efforts for the first edition material on which the current review (as chapter #13 in the final CMAS #2) is based.
Author thanks Andrew Kumar, MD (Resident, Wayne State University School of Medicine, Detroit, MI, USA) and Janavi Kolpekwar for copy-editing support.
ABBREVIATIONS (IN ALPHABETIC ORDER)
AJCC = American Joint Committee on Cancer
ALCL - anaplastic large cell lymphoma
ALL - Acute lymphoblastic leukemia
ALL/LBL - precursor T- or B- lymphoblastic leukemia/ lymphoma
AML - Acute myelogenous leukemia
B-ALL/LBL = precursor B lymphoblastic leukemia/ lymphoblastic lymphoma
CISH = chromogenic in-situ hybridization
CLL/SLL = chronic lymphocytic leukemia/small lymphocytic lymphoma
CT = Computed Tomography
DSRCT = Desmoplastic small round cell tumors
DNA = deoxyribonucleic acid
FCM = flow cytometry
FISH = fluorescence in-situ hybridization
FL = follicular lymphoma
H. pylori = Helicobacter pylori
GC = germinal center
PET/CT scan = Positron Emission Tomography – Computed Tomography
SCC = side scatter
K/L ratio = kappa-to-lambda light chain ratio
MALT lymphoma - Mucosa-associated lymphoid tissue lymphoma
MRI scan = magnetic resonance imaging
MZBL = marginal zone B-cell lymphoma
N = no
NK = Natural killer
PAP = Papanicolaou
RT-PCR = reverse transcriptase-PCR
T-ALL/LBL = precursor T lymphoblastic leukemia/ lymphoblastic lymphoma
Y = yes
Show Sections