doi:
10.4103/1742-6413.75668
Thank you CytoJournal reviewers and authors - 2008 through 2010
Address: Executive Editor and Co-Editor-in-Chief, CytoJournal, Department of Pathology, Wayne State University School of Medicine, Karmanos Cancer Institute, and Detroit Medical Center, Detroit, MI, USA
*Corresponding author
Received: , Accepted: ,
© 2010 Shidham; licensee Cytopathology Foundation Inc.
Licence
This is an open-access article distributed under the terms of the Creative Commons Attribution-Noncommercial-Share Alike 3.0 Unported, which permits unrestricted use, distribution, and reproduction in any medium, provided the original work is properly cited.
Disclaimer:
This article was originally published by Medknow Publications and was migrated to Scientific Scholar after the change of Publisher; therefore Scientific Scholar has no control over the quality or content of this article.
This is the time to thank all the CytoJournal peer reviewers for their critical participation in the exercise of publishing scientific literature prior to its dissemination. The critical efforts of all the peer reviewers are obvious by the continued high standards of CytoJournal articles. Although according to the "close review" policy of CytoJournal (http://www.cytojournal.com/prp.asp), all CytoJournal reviewers are anonymous, their deserving role must be acknowledged prominently.
This editorial collectively acknowledges the efforts of all CytoJournal reviewers [Tables 1–3] for reviewing the manuscripts submitted during 2008 through 2010. Some of these manuscripts were recommended to be published after appropriate responses by the authors to the reviewer criticism.(1–52) Others could not be accepted for publication based on reviewer recommendations.
As per the peer review policy (http://www.cytojournal.com/prp.asp), depending on various reasons, including potential of conflict of interest, some of the manuscripts are periodically assigned to an "academic editor" who completes the review process and recommends final decision to the executive editor. The academic editors are acknowledged in the article published.(5354) However, the academic editors of the manuscripts which were not recommended to be published are also included in this list with all the reviewers.
On behalf of CytoJournal editorial board (http://www.cytojournal.com/editorialboard.asp) and Cytopathology Foundation Inc. ( http://www.cytopathology-foundation.org), I thank all the reviewers and academic editors for participating in and completing CytoJournal peer review process for multiple CytoJournal manuscripts from 2008 through 2010 [Tables 1–3].[1–52] Please accept this editorial as token of appreciation for the time and efforts to improve the final quality of CytoJournal articles. We request your continued participation in high standards of CytoJournal peer review process in a timely fashion. This is a critical component of any scientific peer reviewed journal such as CytoJournal.[5354]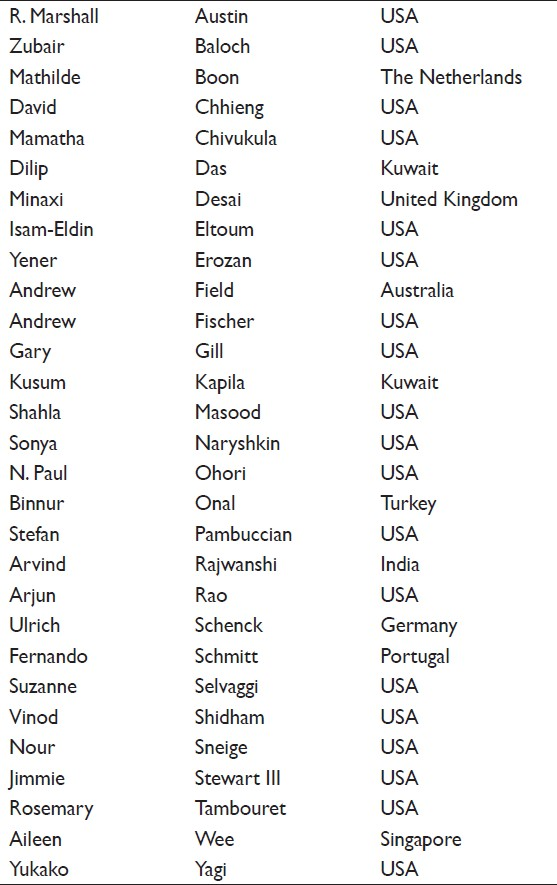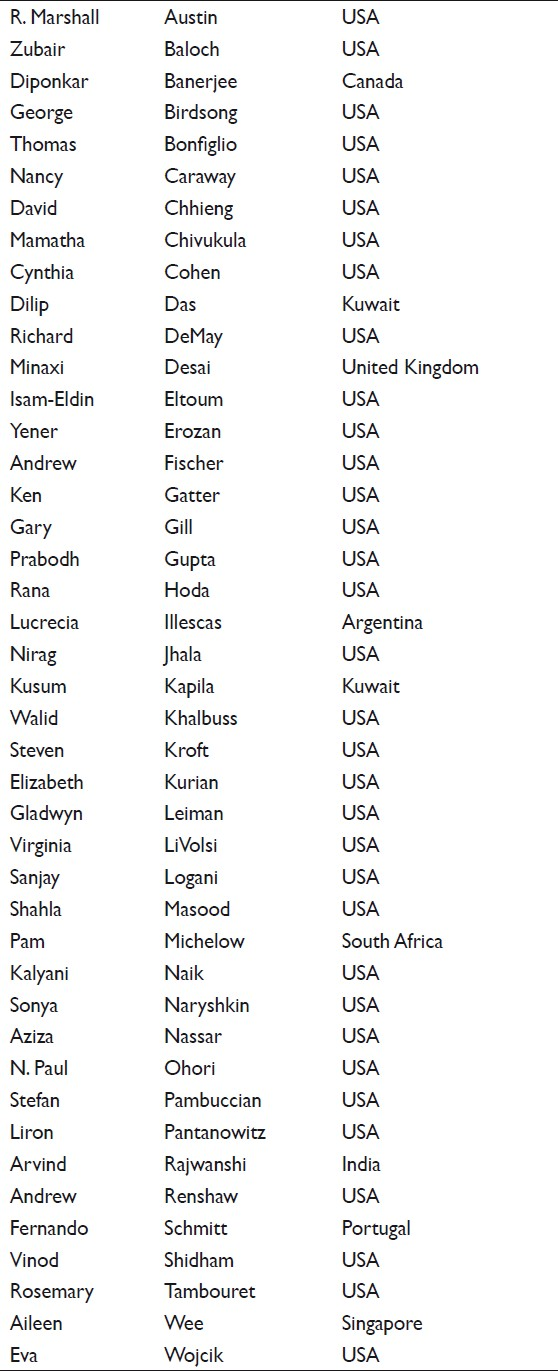 Based on the input from you, CytoJournal is organizing an opportunity to claim CME for participating in peer review of CytoJournal manuscripts. Soon CytoJournal peer reviewers completing high-quality review process in a timely fashion could claim AMA Category 1 CME credits after each review, in collaboration with Wayne State University School of Medicine (Southeast Michigan Center for Education), Detroit, MI, USA. Once this feature becomes active, it will be obvious during the acceptance and completion of review process. In addition, you will be notified as soon as the online infrastructure for claiming the CME is complete.
For any manuscript submitted to CytoJournal, the reviewers are selected from the core reviewer panel (http://www.cytojournal.com/reviewers.asp). All the experts in cytopathology are invited to join the ever increasing demand of good reviewers by visiting "Reviewer Corner" on CytoJournal home page (www.cytojournal.com) and selecting "Join as CytoJournal Reviewer" at http://www.cytojournal.com/joinus.asp.
CytoJournal and Cytopathology Foundation also thank all the authors for contributing to the "open access charter" of CytoJournal http://www.cytojournal.com/downloads/cpl.pdf. By publishing in CytoJournal, you could disseminate your work freely all over the world without losing your hard earned copyright by agreeing to share it in public domain. The benefits include study proven higher access, visibility, and downloads of your work.[55–57] The probability of citation, which depends on the topic and quality of your study-article, is similar to the conventional journals.[57]
REFERENCES
Pleomorphic adenoma with squamous and appendageal metaplasia mimicking mucoepidermoid carcinoma on cytology.
Collection of the BD SurePath Pap Test with a broom device plus endocervical brush improves disease detection when compared to the broom device alone or the spatula plus endocervical brush combination.
Use of the ThinPrep Imaging System does not alter the frequency of interpreting Papanicolaou tests as atypical squamous cells of undetermined significance.
Myoepithelial cells: Any role in aspiration cytology smears of breast tumors?
Calcium pyrophosphate dihydrate deposition disease (CPPD)/Pseudogout of the temporomandibular joint - FNA findings and microanalysis.
Prevalence and significance of psammoma bodies in cervicovaginal smears in a cervical cancer screening program with emphasis on a case of primary bilateral ovarian psammocarcinoma.
A 5-year-old girl with a congenital ganglioneuroma diagnosed by fine needle aspiration biopsy: A case report.
Fine needle aspiration biopsy of intraoral and oropharyngeal mass lesions.
Comparison of Thin-Prep and cell block preparation for the evaluation of Thyroid epithelial lesions on fine needle aspiration biopsy.
Cytological and molecular diagnosis of solid variant of papillary thyroid carcinoma: A case report.
Utility of Thyroglobulin measurement in fine-needle aspiration biopsy specimens of lymph nodes in the diagnosis of recurrent thyroid carcinoma.
Informatics applied to cytology.
Nodular fasciitis of the external ear masquerading as pleomorphic adenoma: A potential diagnostic pitfall in fine needle aspiration cytology.
Entamoeba gingivalis pulmonary abscess-diagnosed by fine needle aspiration.
Primary effusion lymphoma involving three body cavities.
Surrogate indicators of sensitivity in gynecologic cytology: Can they be used to improve the measurement of sensitivity in the laboratory?
Does the ThinPrep Imaging System increase the detection of high-risk HPV-positive ASC-US and AGUS? The Women and Infants Hospital experience with over 200,000 cervical cytology cases?
The status of cervical cytology in Swaziland, Southern Africa: a descriptive study.
Differential expression of galectin-3, CK19, HBME1, and Ret oncoprotein in the diagnosis of thyroid neoplasms by fine needle aspiration biopsy.
Routine review of ascites fluid from patients with cirrhosis or hepatocellular carcinoma is a low-yield procedure: An observational study.
Comparison of the modified fluorescent method and conventional Ziehl-Neelsen method in the detection of acidfast bacilli in lymphnode aspirates.
Assessment of quality of data provided on Pap test requisitions: Implications for quality of care and patient safety.
Penile metastasis of urothelial carcinoma diagnosed by fine-needle aspiration.
Inadequate fine needle aspiration biopsy samples: Pathologists versus other specialists.
Assessment of oral cytological changes associated with exposure to chemotherapy and/or radiotherapy.
FNA of misclassified primary malignant neoplasms of the thyroid: Impact on clinical management.
Cytologic features of metanephric adenoma of the kidney.
The impact of digital imaging in the field of cytopathology.
Hemosiderin laden macrophages and hemosiderin within follicular cells distinguish benign follicular lesions from follicular neoplasms.
Comparison of the efficacy of the cervex brush and the extended-tip wooden spatula with conventional cytology: A longitudinal study.
Diagnosis and typing of systemic amyloidosis: The role of abdominal fat pad fine needle aspiration biopsy.
The spectrum of coincident entities with small lymphocytic lymphoma/chronic lymphocytic leukemia (SLL/CLL) diagnosed by cytology.
Eosinophilic ascites due to severe eosinophilic ileitis.
Pleomorphic adenoma: A diagnostic pitfall in the diagnosis of salivary gland lesions on FNAC: Case reports with review of the literature.
Fine needle aspiration biopsy of an osteoclast-rich undifferentiated urothelial carcinoma: A cytology case report and review of the literature.
Determination of HER-2 status on FNAC material from breast carcinomas using in situ hybridization with dual chromogen visualization with silver enhancement (dual SISH)
Pituitary carcinoma diagnosed on fine needle aspiration: Report of a case and review of pathogenesis.
Colposcopic evaluation of cervix with persistent inflammatory Pap smear: A prospective analytical study.
Evaluation of atypical squamous cells on conventional cytology smears: An experience from a screening program practiced in limited resource settings.
Case study documenting the diagnosis of idiopathic CD4+ Lymphocytopenia in a patient with atypical fungal infection (disseminated blastomycosis) by FNA of adrenal mass.
APTIMA assay on SurePath liquid-based cervical samples compared to endocervical swab samples facilitated by a real time database.
Fine needle aspiration diagnosis of Rosai-Dorfman disease in an osteolytic lesion of bone.
Fine-needle aspiration cytology of extra mammary metastatic lesions in the breast: A retrospective study of 36 cases diagnosed during 18 years.
Clinical history of HIV infection may be misleading in cytopathology.
Atypical squamous cells, cannot exclude high grade squamous intraepithelial (ASC-H) in HIV-positive women.
Diagnostic difficulties and pitfalls in rapid on-site evaluation of endobronchial ultrasound guided fine needle aspiration.
Progression from on-site to point-of-care fine needle aspiration service: Opportunities and challenges.
Integrating a FISH imaging system into the cytology laboratory.
Fine needle aspiration biopsy diagnosis of dedifferentiated liposarcoma: Cytomorphology and MDM2 amplification by FISH.
Cytomorphologic consideration in malignant ascites with renal cell carcinoma: A report of two cases.
A Shandon PapSpin liquid-based gynecological test: A split-sample and direct-to-vial test with histology follow-up study.
Hepatic epithelioid hemangioendothelioma: A diagnostic pitfall in aspiration cytology.
Ciliated foregut cyst of the pancreas: preoperative diagnosis using endoscopic ultrasound guided fine needle aspiration cytology: A case report with a review of the literature.
Two-color immunocytochemistry for evaluation of effusion fluids for metastatic adenocarcinoma.
First CytoJournal Peer-Reviewer′s Retreat in 2006 - Open access, peer-review, and impact factor.

The Open Citation Project- Papers and presentations.

Reference Linking and Citation Analysis for Open Archives

.

Does open access lead to increased readership and citations?

Fulltext Views
3934

PDF downloads
13
Show Sections