Atypical glandular cells (AGC): Cytology of glandular lesions of the uterine cervix
Departments of Pathology, Wayne State University School of Medicine, Detroit Medical Center, and Karmanos Cancer Center

,

Detroit, Michigan

,

USA

*
Corresponding author: Sudeshna Bandyopadhyay, MD Departments of Pathology, Wayne State University School of Medicine, Detroit Medical Center, and Karmanos Cancer Center, Detroit, Michigan, USA. sbandyop@med.wayne.edu
Received: , Accepted: ,
© 2022 Cytopathology Foundation Inc, Published by Scientific Scholar
Licence
This is an open-access article distributed under the terms of the Creative Commons Attribution-Non Commercial-Share Alike 4.0 License, which allows others to remix, transform, and build upon the work non-commercially, as long as the author is credited and the new creations are licensed under the identical terms.
How to cite this article: Khan MY, Bandyopadhyay S, Alrajjal A, Choudhury MS, Ali-Fehmi R, Shidham VB. Atypical glandular cells: Cytology of glandular lesions of the uterine cervix. CytoJournal 2022;19:31.
Abstract
The Pap smear is a well-known screening tool for squamous lesions of the uterine cervix. However, its screening role in glandular lesions is less effective. The incidence of squamous cell carcinoma of the cervix has dramatically decreased with the advent of Pap smear and recent understanding related to HPV carcinogenesis of cervical cancers including the advent of HPV vaccines. However, in recent years, the incidence of glandular abnormalities, diagnosed on Pap smears, has increased with greater sensitivity and precision.
The incidence of atypical glandular cells (AGC) is approximately 0.18–0.74% of all cervical smears with a reported prevalence of 2.5% among all Pap smears. A high degree of suspicion, good clinical history, and the presence of diagnostic cytomorphological findings are essential for the proper interpretation of glandular cell abnormalities. A methodical approach to evaluate Pap smear greatly helps interpretation and avoids the diagnostic pitfalls. The Bethesda System for reporting cervical cytology has categorized glandular cell abnormalities into various categories as follows:
Endocervical adenocarcinoma in situ (AIS)

Atypical glandular cells (AGCs)

Endocervical cells: a1 NOS or specify in comments; a2 Favor neoplastic

Endometrial cells: NOS or specify in comments

Adenocarcinoma (AdCa)

Endocervical

Endometrial

Extrauterine

NOS
Subtle differences in quantitative and qualitative cytologic features are essential for distinguishing one category from another. In this chapter, we highlight an organized approach for the interpretation of glandular abnormalities in Pap smear for our readers. This is an overview of the Bethesda categories, the reason for classification, and differential diagnosis with key characteristic features. An approach to the methodical evaluation of hyperchromatic crowded groups is discussed with key cytomorphologic differences. An algorithmic approach is suggested to facilitate the interpretation of various AGC categories.
Keywords
Atypical glandular cells
AGC
HCG
Hyperchromatic crowded groups
Cervical cytology
HPV
Cancer
Screening
Adenocarcinoma
AIS
Adenocarcinoma in situ
Endocervix
Endometrial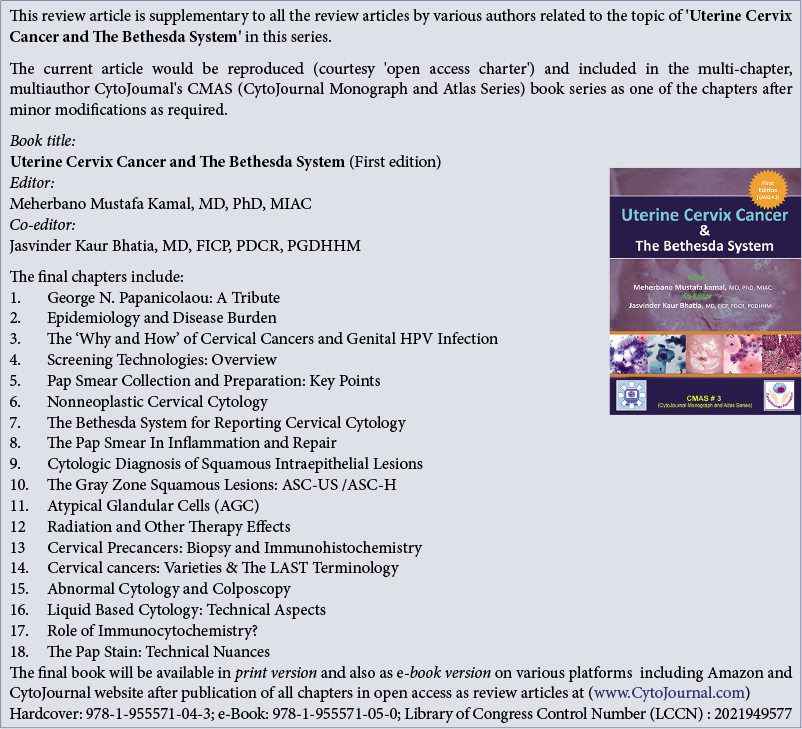 Acknowledgment
Authors thank Dr. Pansare for the contribution of some images.
LIST OF ABBREVIATIONS (In alphabetic order)
AdCa – Adenocarcinoma
AdCa-EM - Adenocarcinoma, endometrial
AEM - AGC endometrial
AGC – Atypical glandular cells
AIS – Adenocarcinoma in situ
ASC – Atypical squamous cells
BIRST-2 – Bethesda inter-observer reproducibility study
DES – Diethylstilbestrol
HCG – Hyperchromatic crowded group
HPV – Human papillomavirus
hrHPV – High-risk
HPV HSIL – High-grade squamous intraepithelial lesion
ICN – Intermediate cell nuclei
LBC – Liquid-based cytology
LSIL – Low-grade squamous intraepithelial lesion
LSIL-H – LSIL, cannot rule out
HSIL N/C – Nuclear/cytoplasmic
NOS – Not otherwise specified
Pap – Papanicolaou
SAPK – Small atypical parakeratotic
yr – Year
Show Sections