Translate this page into:

doi:
10.4103/1742-6413.92545
How to write an article: Preparing a publishable manuscript!
Department of Pathology, Wayne State University School of Medicine, Karmanos Cancer Center, and Detroit Medical Center, Old Hutzel Hospital (Department of Cytology-Ground Floor), 4707 St. Antoine Blvd, Detroit, MI 48201
1
Harvard Medical School, Boston, MA, USA
2
University of Chicago, Chicago, IL
Received: , Accepted: ,
© 2012 Shidham VB, et al.; licensee Cytopathology Foundation Inc.
Licence
This is an open-access article distributed under the terms of the Creative Commons Attribution-Noncommercial-Share Alike 3.0 Unported, which permits unrestricted use, distribution, and reproduction in any medium, provided the original work is properly cited.
Disclaimer:
This article was originally published by Medknow Publications & Media Pvt Ltd and was migrated to Scientific Scholar after the change of Publisher.
Abstract
Most of the scientific work presented as abstracts (platforms and posters) at various conferences have the potential to be published as articles in peer-reviewed journals. This DIY (Do It Yourself) article on how to achieve that goal is an extension of the symposium presented at the 36th European Congress of Cytology, Istanbul, Turkey (presentation available on net at http://alturl.com/q6bfp). The criteria for manuscript authorship should be based on the ICMJE (International Committee of Medical Journal Editors) Uniform Requirements for Manuscripts. The next step is to choose the appropriate journal to submit the manuscript and review the 'Instructions to the authors' for that journal. Although initially it may appear to be an insurmountable task, diligent organizational discipline with a little patience and perseverance with input from mentors should lead to the preparation of a nearly perfect publishable manuscript even by a novice. Ultimately, the published article is an excellent track record of academic productivity with contribution to the general public good by encouraging the exchange of experience and innovation. It is a highly rewarding conduit to the personal success and growth leading to the collective achievement of continued scientific progress. Recent emergences of journals and publishers offering the platform and opportunity to publish under an open access charter provides the opportunity for authors to protect their copyright from being lost to conventional publishers. Publishing your work on this open platform is the most rewarding mission and is the recommended option in the current modern era.
[This open access article can be linked (copy-paste link from HTML version of this article) or reproduced FREELY if original reference details are prominently identifiable].
Keywords
Author
cytopathology
manuscript
publish
research
reviewer
INTRODUCTION
This article is an extension of the symposium presented at the 36th European Congress of Cytology (ECC), Istanbul, Turkey: How to write article? CytoJournal perspective! (Symposium# 9).[1] This four-part symposium was presented by the editors-in-chief/representative of four of five international, peer-reviewed, premier cytopathology journals. The message by each of the four presenters had an anticipated overlap. This article is a modification and expansion of the CytoJournal point of view. It is published for CytoJournal readership as an exercise in open access charter as requested by some attendees and CytoJournal readers. The CytoJournal portion of the presentation at ECC is also available on web at http://alturl.com/q6bfp.
Writing an article can be a reality with appropriate efforts and approach. Once we decide to write on the topic of our research, the most important factor is to just begin the process! However, what follows may not seem as simple. As aptly stated by Gene Fowler, "Writing is easy: All you do is sit staring at a blank sheet of paper until drops of blood form on your forehead".[2]
Scientific literature is based on the analysis and discussions about experiments, observations, and experiences with serious and intellectual exchange of information accomplished through a variety of platforms. In addition to the books, e-books, lectures, and direct conversations among scientists, publishing the research in peer-reviewed journals is an important exercise for academic growth at the individual level and advancement of science at the global level.
Even though performing a study and recording the details of the observations are important components of an academic career, abandoning the process at this stage will not add significantly to individual academic advancement [Table 1].[3] Converting these initial scholarly efforts into the abstract is a nimble start. However, writing an abstract is just not enough. For appropriate academic credit, one must proceed to the next step of preparing a publishable manuscript. Unfortunately, fewer than half of all abstracts at the conference went on to become completed manuscripts.[4] Non-publication of a deserving work is a tremendous personal and public loss [Table 1]. The fact is that only published articles are considered the true gauge of academic achievement in the scholarly world as judged by funding entities, department chairs, colleagues, and peers.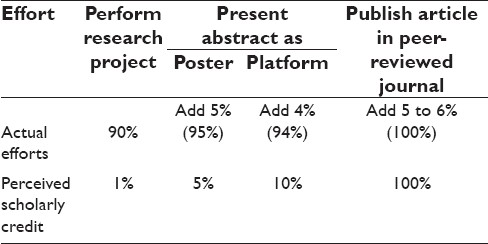 This article is primarily directed towards junior scholars seeking some general guidance in writing a publishable cytopathology manuscript. Although this article mainly concerns research papers, the broad principles are applicable to other areas of pathology and science in general. These principles are also applicable to other categories of publications including case reports and review articles, as well as brief reports and editorials.[5]
Writing a research manuscript and shaping it into a published article (paper) is a structured process with ample potential for frustration unless honed by the wisdom of appropriate mentorship. Most of the resources are available freely on the web, but this article consolidates these resources in one place with prime emphasis on cytopathology manuscripts. Beginners are especially recommended and encouraged to study these resources.[6–12]
There are many steps in writing a publishable manuscript, beginning with the decision to perform a study and culminating in its publication in a peer-reviewed scientific journal, preferably the one with ability to generate high impact of your work in the scientific arena. The impact factor of any journal measures the number of citations to its articles published in other scientific journals. It is a proxy for the relative importance of a journal within its field. The magnitude to which an individual article has been cited by other authors is thus the important factor conventionally used for measuring the scientific achievements.[13] Indirectly, any journal achieving widest, barrier-free broadcasting of your article would increase its visibility with enhanced opportunities to attract a higher number of citations.[14]
Research and publication process may be broadly divided in to three main steps:
Performing the research

Analyzing the data (results)

Preparing the manuscript
The first two steps are not the main topic of this article, and so these will be addressed only briefly with the following lists of important points to be considered for achieving the goal of publishing an article in a scientific peer-reviewed journal.
ACKNOWLEDGMENTS
The authors thank Kathy Rost for her secretarial help. We also thank Anushree Shidham and Anjani Shidham for their copy editing support. Evaluation of the final drafts with constructive criticism by Dr. Tranchida, Dr. Bandyopadhyay and Dr. Nazeer is appreciated.
REFERENCES
How to write article?

2011

.

CytoJournal perspective! (Symposium# 9), 36th European Congress of Cytology, Istanbul, Turkey

.

How do I write an original article? An introduction for beginners. Anaesthesist. 2007;56:828-36.

Unpublished research from a medical specialty meeting: Why investigators fail to publish. JAMA. 1998;280:257-9.

How to write and publish papers in the medical sciences. Baltimore: Lippincott Williams and Wilkins; 1998.

Writing Papers in the Biological Sciences (3rd ed). New York: Bedford/St. Martin's; 2001. ISBN 0-312-25857-7

Scientific Papers and Presentations. San Diego, CA: Academic Press; 1997.

How to Write and Publish a Scientific Paper (4th ed). Phoenix, AZ: Oryx Press; 1994.

Advice to a young scientist. New York: Harper and Row Publishers; 1979.

Sponsorship, authorship, and accountability. N Engl J Med. 2001;345:825-6. discussion 6-7

Up for grabs-authors are a dime a dozen: the problem of multiple authors. Acta Paediatr. 2004;93:589-91.

Scientific dishonesty: European reflections. J Clin Pathol. 2001;54:4-6.

The consequences of a fraudulent scientist on his innocent coinvestigators. JAMA. 1990;264:3145-6.

Authorship criteria and disclosure of contributions: Comparison of 3 general medical journals with different author contribution forms. JAMA. 2004;292:86-8.

The vexed question of authorship: views of researchers in a British medical faculty. BMJ. 1997;314:1009-12.

Peer review. Suggesting or excluding reviewers can help get your paper published. Science. 2005;309:1974.

The Elements of Style (4th ed). New York: Allyn & Bacon; 2000.

How to read, understand, and write 'Discussion' sections in medical articles. An exercise in critical thinking. Med Sci Monit. 2006;12:SR28-36.

Der Hund, der Eier legt. Hamburg: Rowohlt 2006

How to write a research paper. Cerebrovasc Dis. 2004;18:135-8.

How I review an original scientific article. Am J Resp Crit Care Med. 2002;166:1019-23.

Who reviews the reviewers? Feasibility of using a fictitious manuscript to evaluate peer reviewer performance. Ann Emerg Med. 1998;32:310-7.

How I review an original scientific article. Am J Resp Crit Care Med. 2002;166:1019-23.
Show Sections