Translate this page into:

doi:
10.4103/1742-6413.170734
Pitfall in immunohistochemical staining for thyroglobulin in case of thyroid metastasis from lung carcinoma
Address: Department of Medicine, Faculty of Medicine Ramathibodi Hospital, Mahidol University, Bangkok 10400, Thailand
1
Department of Otolaryngology, Faculty of Medicine Ramathibodi Hospital, Mahidol University, Bangkok 10400, Thailand
2
Department of Pathology, Faculty of Medicine Ramathibodi Hospital, Mahidol University, Bangkok 10400, Thailand
Received: , Accepted: ,
Copyright: © 2015 Kanjanahattakij N, et al.; licensee Cytopathology Foundation Inc.
Licence
This is an open access article distributed under the terms of the Creative Commons Attribution-NonCommercial-ShareAlike 3.0 License, which allows others to remix, tweak, and build upon the work non-commercially, as long as the author is credited and the new creations are licensed under the identical terms.
Disclaimer:
This article was originally published by Medknow Publications & Media Pvt Ltd and was migrated to Scientific Scholar after the change of Publisher.
A 73-year-old female presented with an enlarging neck mass over the last 2 years. She then started experiencing hoarseness, dysphagia, and weight loss for 5 months. Physical examination showed an irregular and hard consistency mass with a diameter of 4 cm occupying the left lobe and isthmus of the thyroid gland. Fine-needle aspiration biopsy (FNAB) was performed and the cytology specimen revealed sheets of neoplastic cells with enlarged, hyperchromatic, slightly pleomorphic nuclei, prominent nucleoli, and brownish pigment inside the tumor cells [Figure 1a]. The definitive diagnosis could not be made from cytology alone. Immunohistochemical staining was requested with positive results for thyroglobulin [Figure 1b], thyroid transcription factor 1 (TTF-1) [Figure 1c], but negative for calcitonin.

QUESTION
Q1: What is the most specific immunohistochemical marker for differentiated thyroid cancer?
Thyroglobulin

TTF-1

Calcitonin

Chromogranin.
ANSWER
Q1: Thyroglobulin.
Following the clinical information, we considered the differential diagnosis between primary thyroid cancer and thyroid metastasis. FNAB cytology alone may not be as useful in distinguishing metastatic high-grade malignancy from poorly differentiated or anaplastic primary thyroid carcinoma.[1] There have been reports of diagnostic difficulties of thyroid metastasis from cytology[2] and misdiagnosis of adenocarcinoma metastasis to the thyroid gland as primary thyroid carcinoma due to the similarity of FNAB cytology between the tumors.[3]
Immunohistochemical studies, especially TTF-1, thyroglobulin, and calcitonin are good adjunctive to FNAB. Table 1 demonstrates the immunohistochemical markers and the corresponding tumors.[456] TTF-1 is a transcription factor expressed in lung and thyroid epithelial cells. It is also expressed in prostate, stomach, salivary gland, colon tumors, and urothelial carcinoma. It is highly sensitive in the detection of lung and thyroid carcinoma. On the contrary, thyroglobulin is a specific marker for differentiated thyroid cancer, and it is positive in only 20-30% of anaplastic thyroid carcinoma.[16] However, a negative thyroglobulin and positive TTF-1 can be found in medullary thyroid carcinoma. Therefore, calcitonin immunohistochemical stain or serum calcitonin should be performed if medullary thyroid carcinoma is suspected.[6]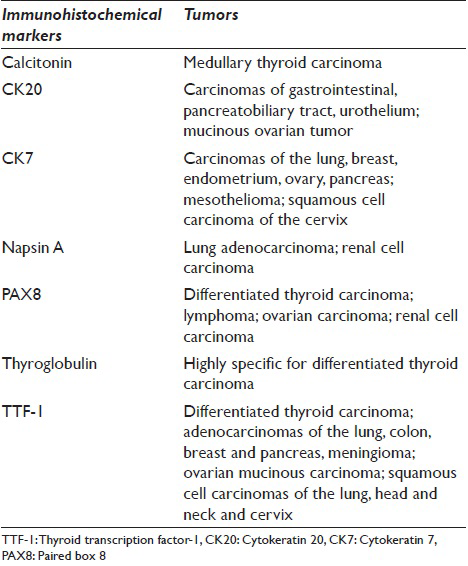 FOLLOW-UP OF THE PRESENT CASE
The patient's thyroid function tests were as follows: FT4 1.64 μg/dL (0.7–1.48), T3 74 ng/dL (58–159), and thyroid-stimulating hormone 0.015 mIU/L (0.35–4.94). Computed tomography (CT) scan of the neck showed a large lobular enhancing thyroid mass with central necrosis and multiple small calcifications with an epicenter at the left and pyramidal thyroid lobes, measuring 5.6 × 2.9 × 6.8 cm, accompanied by multiple necrotic cervical and mediastinal lymph nodes [Figure 2]. Chest CT showed a 3 cm mass in the right middle lung abutting the major fissure with multiple small nodules in both lungs and multiple enlarged mediastinal lymph nodes [Figure 3a]. A small right adrenal gland nodule was also found. CT scan of her brain demonstrated multiple brain metastases [Figure 3b]. A bone scan found multiple areas of increased uptakes in the vertebrae, left femoral neck, proximal left fibula, and parietal bone [Figure 3c].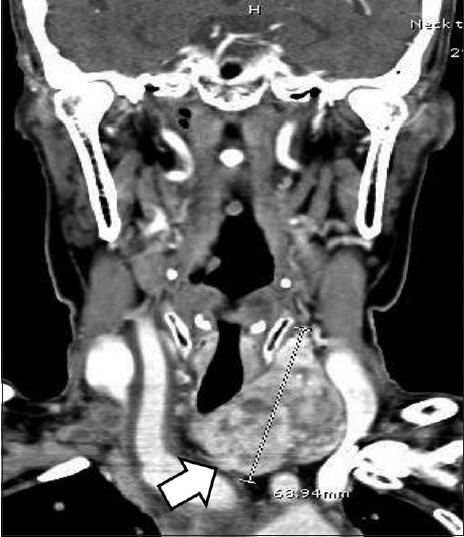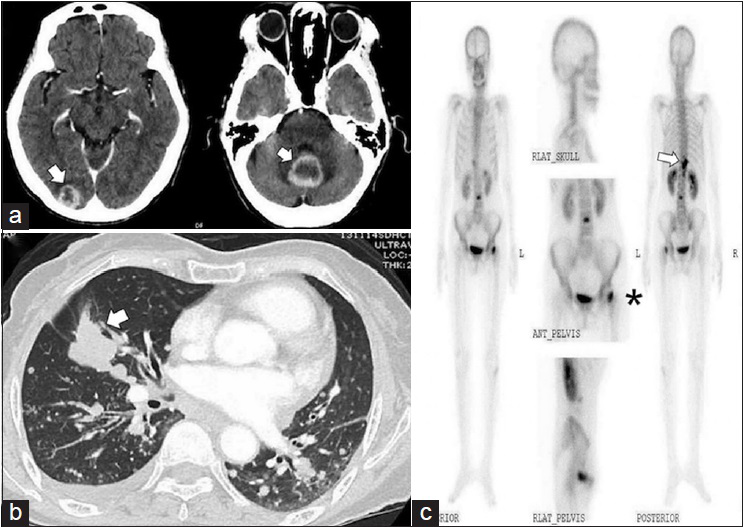 The patient was diagnosed with poorly differentiated thyroid carcinoma with distant metastases. She underwent total thyroidectomy with radical neck dissection to relieve her compressive symptoms and to obtain tissue for pathological diagnosis. Histologic sections revealed nodular goiter and small foci of carcinoma in glandular and papillary formations in the left lobe of the thyroid [Figure 4a]. Immunohistochemical staining was slightly positive for thyroglobulin in the background thyroid follicular cells, positive for cytokeratin 7 and TTF-1, and negative for cytokeratin 20 in the neoplastic cells [Figure 4b and c]. Her biopsied cervical lymph node also showed metastatic carcinoma [Figure 4d] with positive immunohistochemical stain for TTF-1, but negative for thyroglobulin [Figure 4e and f]. The definite diagnosis was changed to poorly differentiated lung adenocarcinoma with metastasis to the thyroid gland. After surgery, the patient received palliative whole-brain radiation therapy. Unfortunately, she passed away 7 months after diagnosis.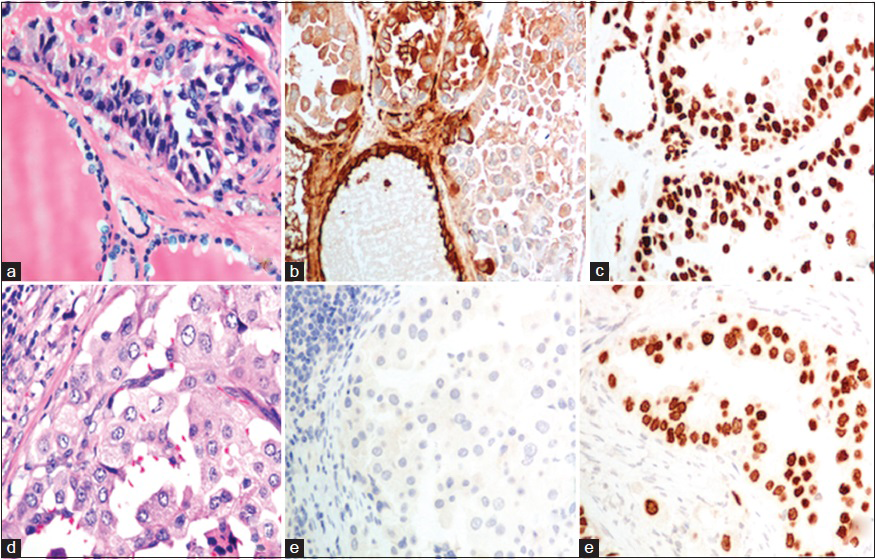 ADDITIONAL QUIZ QUESTIONS
Q2: What is the most frequent primary cancer that metastasized to the thyroid gland?
Lung carcinoma

Renal cell carcinoma

Hepatocellular carcinoma

Malignant melanoma

Lymphoma.
Q3. What is the usual management of thyroid metastasis?
Levothyroxine suppression

Lobectomy

Radioactive iodine

Prophylactic radiation

Treatment of primary malignancy.
ANSWERS TO ADDITIONAL QUIZ QUESTIONS
Q2. (B): The most common tumor that metastasizes to the thyroid gland is renal cell carcinoma. Following renal cell carcinoma, the next most common tumors are colorectal, lung, and breast carcinoma.
Q3. (E): Management of thyroid metastasis depends on the primary site of the tumor, the presence of other metastases and symptoms caused by thyroid mass. Despite thyroid, metastasis is associated with poor prognosis aggressive surgical treatment could be applied for the selected patients such as isolated metastasis, especially from renal cell carcinoma. The radiation therapy can help to relieve symptom and should be considered in the patients with high risk for surgery. There is no role for radioactive iodine therapy and levothyroxine suppression therapy.
BRIEF REVIEW OF THIS TOPIC
CONCLUSIONS
Evaluating poorly differentiated malignant neoplasm of the thyroid gland is a challenge, due to overlapping cytopathological features of poorly differentiated thyroid cancer and thyroid metastasis. Immunohistochemical staining, especially thyroglobulin usually helps lead to accurate diagnosis. However, it is not as ideal as previously thought. As it was demonstrated in our patient, false positive thyroglobulin can occur with underlying nodular goiter, possibly from diffusion of thyroglobulin from surrounding tissues. The interpreting immunoreactivity to thyroglobulin should be done with caution. The immunoreactivity should be seen in the tumor cells – not in the background and/or thyroid follicular cells. It is important for physicians to be aware of the possibility of thyroid metastasis when evaluating poorly differentiated primary thyroid carcinoma in patients with underlying thyroid pathology, even with suggestive immunohistochemical markers.
COMPETING INTERESTS STATEMENT BY ALL AUTHORS
The authors declare that they have no competing interests.
AUTHORSHIP STATEMENT BY ALL AUTHORS
All authors of this article declare that we qualify for authorship as defined by ICMJE http://www.icmje.org/#author.
Each author has participated sufficiently in the work and takes public responsibility for appropriate portions of the content of this article.
ETHICS STATEMENT BY ALL AUTHORS
This Quiz has been reviewed and approved by the Committee on Human Rights Related to Research Involving Human Subjects, Faculty of Medicine Ramathibodi Hospital, Mahidol University.
LIST OF ABBREVIATIONS (In alphabetic order)
CT - Computed Tomography
EGFR - Epidermal Growth Factor Receptor
FNAB - Fine-Needle Aspiration Biopsy
TTF-1 - Thyroid Transcription Factor 1
EDITORIAL/PEER-REVIEW STATEMENT
To ensure the integrity and the highest quality of CytoJournal publications, the review process of this manuscript was conducted under a double-blind model.
Show Sections