doi:
10.4103/1742-6413.129186
Thank you CytoJournal reviewers for your 2012 and 2013 services!
Address: Department of Pathology, Wayne State University School of Medicine, Karmanos Cancer Center and Detroit Medical Center, Detroit, MI 48201, USA
1
Department of Pathology, University of Chicago, Chicago, IL, USA
Received: , Accepted: ,
Copyright: © 2014 Shidham, et al.; licensee Cytopathology Foundation Inc.
Licence
This is an open-access article distributed under the terms of the Creative Commons Attribution-Noncommercial-Share Alike 3.0 Unported, which permits unrestricted use, distribution, and reproduction in any medium, provided the original work is properly cited.
Disclaimer:
This article was originally published by Medknow Publications & Media Pvt Ltd and was migrated to Scientific Scholar after the change of Publisher; therefore Scientific Scholar has no control over the quality or content of this article.
Cytopathology foundation thanks all 2012 and 2013 CytoJournal peer reviewers for extending their resources by devoting significant efforts and time. Contribution of high quality scientific cytopathology literature through public domain under open access (OA) charter of CytoJournal is only possible with continued dedication of this segment of academia.
CytoJournal peer reviewers are critical for its continued contribution of scientific cytopathology literature to the public domain under its open access (OA) charter. CytoJournal editorial board and cytopathology foundation (CF) thank all CytoJournal peer reviewers for their devotion by extending their significant efforts, time, and resources by completing the review process of all cytojournal manuscripts in a timely manner published during 2012 [Table 1][123456789101112131415161718192021222324] and 2013 [Table 2].[25262728293031323334353637383940414243444546474849] The overall acceptance rate was 52% during 2012 and 54% during 2013. Hence, there were many more manuscripts, which were reviewed but recommended for non-acceptance. Tables 1 and 2 include all the reviewers participating in the peer-review process for all the manuscripts during this period. The reviewers for individual manuscripts are assigned from the CytoJournal core reviewer panel. The list of all the CytoJournal core reviewer panel members is updated periodically on CytoJournal home page.[50]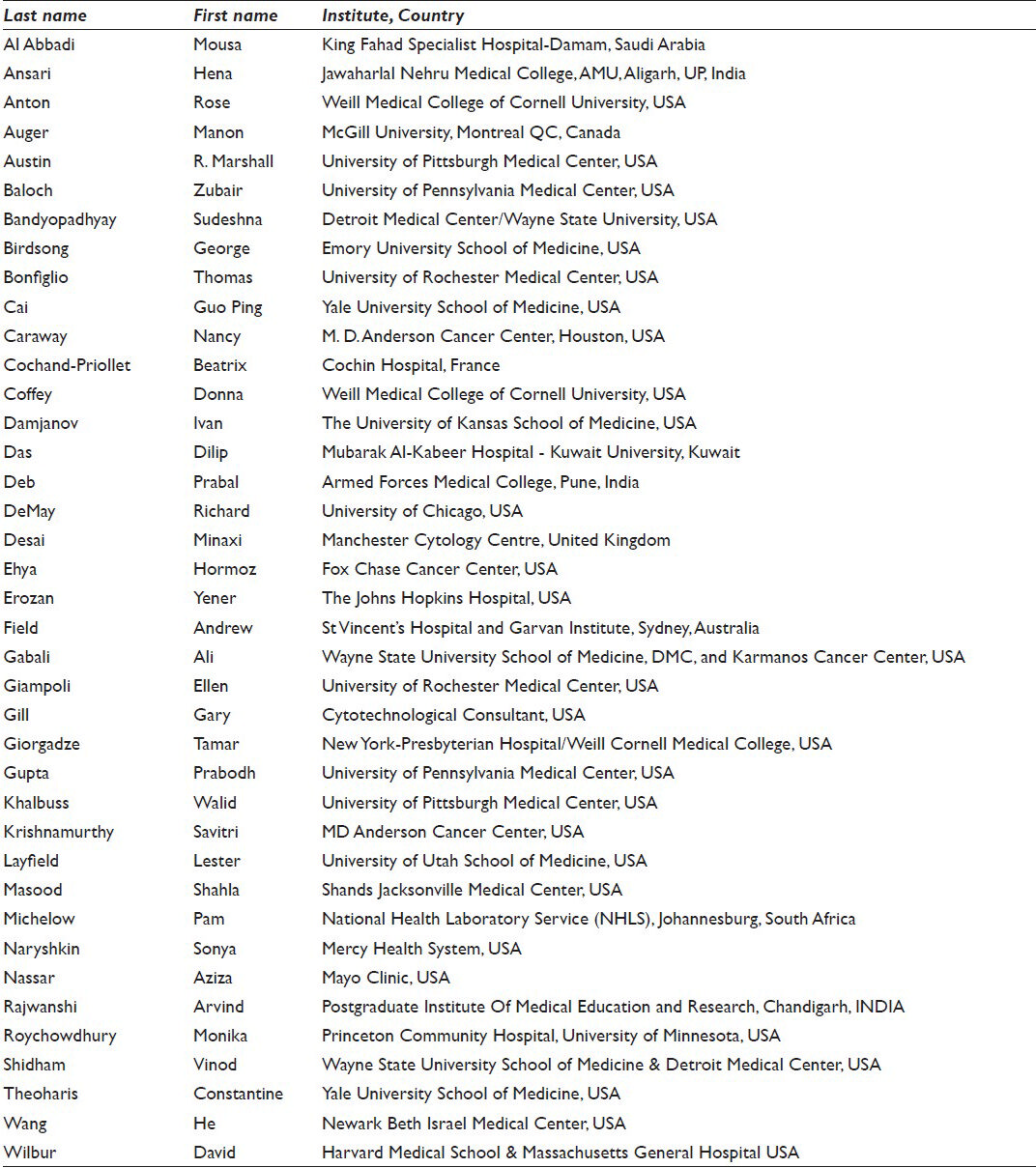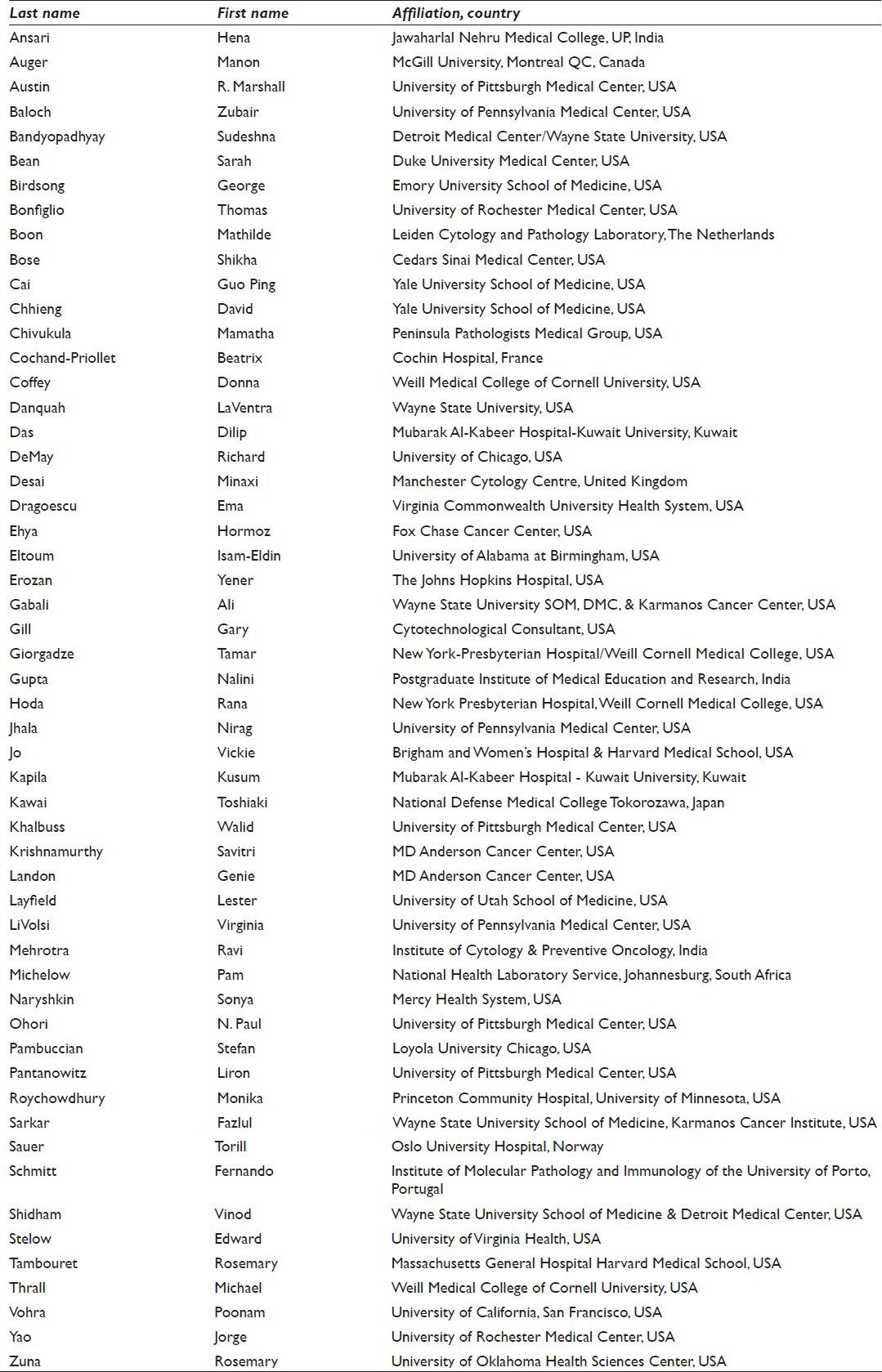 We thank all the authors for their continued support by publishing with CytoJournal which provides a robust OA platform. Global dissemination of their high-value cytopathology and related scientific literature as a freely available resource all over the world without losing their hard-earned copyright has been increasingly relevant. OA charter allows all CytoJournal authors to share their copyrights in the public domain under the terms of the creative commons attribution license.[51] In addition to general public benefits with barrier free, global access to a high standard scientific cytopathology knowledge, the authors as academia enjoy wider global dissemination of their work under OA charter. This translates into higher visibility with increased downloads and impact.[525354] Although actual quality and novelty of the individual study articles are the most critical factors, the probabilities of citation with continuous referencing is facilitated with increasing ease by the web matrix. If we apply Moore's law to this phenomenon of OA on the web, it suggests an increasingly higher impact with a tremendous long-term rewards.[5556]
Finally, we thank all the CytoJournal authors, readers, and supporting academia for considering CytoJournal as their OA platform for cytopathology, scientific, peer-reviewed information around the globe. Our best wishes to all CytoJournal editorial board members, reviewers, authors, and readers for ongoing, collective academic prosperity.
REFERENCES
Paraganglioma with unusual presentation in parotid gland: A diagnostic dilemma in fine needle aspiration.
Fine needle aspiration-induced vascular proliferation of the thyroid: A report of two cases.
Endoscopic ultrasound-guided fine needle aspiration of the celiac ganglion: A diagnostic pitfall.
Drug eluting beads on cytology smears.
Cytomorphology of giant cell tumor of bone in pleural fluid.
Metastatic hepatocellular carcinoma presenting as gynecomastia in male: A diagnostic dilema in fine needle aspiration cytology.
Adult rhabdomyoma: A challenging diagnosis on cytology.
Prevalence of human papilloma virus in cytological abnormalities: Association of risk factors and cytomorphological findings.
Parakeratotic-like cells in effusions - A clue to diagnosis of malignant mesothelioma.
Ossifying fibromyxoid tumor - Diagnostic challenge for a cytopathologist.
An unusual case of Primary Effusion Lymphoma with aberrant T-cell phenotype in a HIV-negative, HBV-positive, cirrhotic patient, and review of the literature.
Cytomorphology of unusual infectious entities in the Pap test.
Endoscopic ultrasound and endobronchial ultrasound-guided fine-needle aspiration of deep-seated lymphadenopathy: Analysis of 1338 cases.
Diagnosis of pulmonary hydatid disease presenting with solid nodule and mimicking malignancy by fine needle aspiration cytology.
Virtual microscopy in cytotechnology education: Application of knowledge from virtual to glass.
A case of clear cell adenocarcinoma arising from the urethral diverticulum: Utility of urinary cytology and immunohistochemistry.
Dual color multiplex TTF-1 + Napsin A and p63 + CK5 immunostaining for subcategorizing of poorly differentiated pulmonary non-small carcinomas into adenocarcinoma and squamous cell carcinoma in fine needle aspiration specimens.
Cytological diagnosis of metastatic alveolar rhabdomyosarcoma in the ascitic fluid: Report of a case highlighting the diagnostic difficulties.

in situ

hybridization of Giemsa and Diff-Quick prestained cytological smears.

Cytojournal

. 2012;9:

8

Establishing a protocol for immunocytochemical staining and chromogenic
The Bethesda System thyroid diagnostic categories in the African-American population in conjunction with surgical pathology follow-up.
Fine-needle aspiration cytology of eccrine hidrocystoma.
Two smalls in one: Coincident small cell carcinoma and small lymphocytic lymphoma in a lymph node diagnosed by fine-needle aspiration biopsy.
Comparative evaluation of the modified Scarff-Bloom-Richardson grading system on breast carcinoma aspirates and histopathology.
Comparing endobronchial ultrasound-guided fine needle aspiration specimens with and without rapid on-site evaluation.
Clear cell variant of solid pseudopapillary neoplasm of pancreas diagnosed by fine needle aspiration: A case report and review of the literature.
Evaluation of a triple combination of cytokeratin 20, p53 and CD44 for improving detection of urothelial carcinoma in urine cytology specimens.
Pre-analytic steps for molecular testing on thyroid fine-needle aspirations: The goal of good results.
Protein extraction from methanol fixed paraffin embedded tissue blocks: A new possibility using cell blocks.
Screening and dotting virtual slides: A new challenge for cytotechnologists.
Adequacy of fine-needle aspiration specimens for human papillomavirus infection molecular testing in head and neck squamous cell carcinoma.
Bone marrow elements in cerebrospinal fluid: Review of literature with a case study.
Can cytomorphology of granulomas distinguish sarcoidosis from tuberculosis? Retrospective study of endobronchial ultrasound guided transbronchial needle aspirate of 49 granulomatous lymph nodes.
Cytomorphology of unusual primary tumors in the Pap test.
Macrofollicular variant of papillary carcinoma, a potential diagnostic pitfall: A report of two cases including a review of literature.
Indications for renal fine needle aspiration biopsy in the era of modern imaging modalities.
High risk human papillomavirus type 16 and 18 infection in the cervical lesions of women with epithelial cell abnormality in Pap smear: A cytohistomorphologic association in Bangladeshi women.
Cytopathology of neoplastic meningitis: A series of 66 cases from a tertiary care center.
Gallbladder carcinoma: An attempt of WHO histological classification on fine needle aspiration material.
Cytodiagnosis of gouty tophus.
Performance of endoscopic ultrasound-guided fine needle aspiration in diagnosing pancreatic neuroendocrine tumors.
Metastatic colorectal adenocarcinoma in cervicovaginal cytology specimens confirmed by immunocytochemical stains on liquid base specimens: Two study cases with review of the literature.
Cytomorphology of Boerhaave's syndrome: A critical value in cytology.
Abdominopelvic washings: A comprehensive review.
Effect of Thin Prep(®) imaging system on laboratory rate and relative sensitivity of atypical squamous cells, high-grade squamous intraepithelial lesion not excluded and high-grade squamous intraepithelial lesion interpretations.
Fine needle aspiration cytology in diagnosis of salivary gland lesions: A study with histologic comparison.
Micropapillary urothelial carcinoma: Cytologic features in a retrospective series of urine specimens.
Constructing a modern cytology laboratory: A toolkit for planning and design.
Oncocytic follicular nodules of the thyroid with or without chronic lymphocytic thyroiditis: An institutional experience.
Metastatic urachal carcinoma in bronchial brush cytology.

CytoJournal core reviewer panel.

CytoJournal open. access article distributed under the terms of the creative commons attribution license which permits unrestricted use, distribution, and reproduction in any medium provided the original work is properly cited. Creative commons. Attribution 2.0 Generic. (CC BY 2.0)

Available from: http://www.creativecommons.org/licenses/by/2.0

Cytojournal. 2006;3:5

First CytoJournal Peer-Reviewer's Retreat in 2006-open access, peer-review, and impact factor.
Internet growth: Is there a "Moore's Law" for data traffic? AT and T Labs-Research.

Fulltext Views
5430

PDF downloads
18
Show Sections